Article link https://www.news1.news/news/2021/02/the-name-of-nearly-30000-belgians-has-also-landed-on-mars-this-is-how-you-register-for-the-next-mission.html
The unmanned scout Perseverance (Volharding) landed on Mars last night (Belgian time) after a journey of almost seven months without any problems. Article link https://www.news1.news/news/2021/02/the-name-of-nearly-30000-belgians-has-also-landed-on-mars-this-is-how-you-register-for-the-next-mission.html
The aircraft of almost 3 meters long and more than 2 meters high has several instruments on board to conduct scientific research. But the names of nearly 11 million Earthlings also flew: 10,932,295 to be exact.
Article link https://www.news1.news/news/2021/02/the-name-of-nearly-30000-belgians-has-also-landed-on-mars-this-is-how-you-register-for-the-next-mission.html
The names are stored on three microchips – each the size of a fingernail – attached to an aluminum plate on the Perseverance. Essays from the 155 finalists who entered a competition to name the NASA scout were also shot up from Cape Canaveral, Florida on July 30, 2020.
Anyone who wanted to worldwide could register between May and September 2019 to get his or her name up to Mars. Just under 11,000,000 mere mortals responded to the campaign 'Send your name to Mars' (Send your name to Mars, ed.) from the American space agency NASA and registered.
Wgratefully there was interest from all over the world. In Turkey they were very enthusiastic about the initiative. For example, no fewer than 2.5 million Turks signed up for a trip (of their name) to the red planet.
In our country, 27,550 people registered, including all sixth-year students from the 2018-2019 school year and our editor.
After registering, all 'travelers' received a boarding pass by email as a souvenir. Anyone who received such a boarding pass can rest assured that his name is on board the Perseverance. Exactly a week before landing – last week – NASA sent another reminder to all enrollees. That reminder was not inconvenient, since everyone booked their ticket almost two years earlier.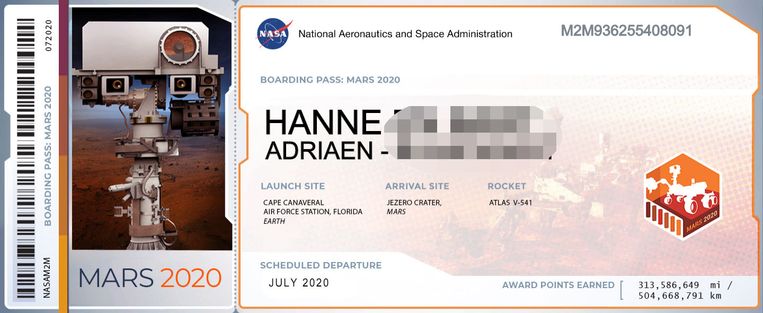 Yesterday it finally happened: Perseverance landed safely on Mars and, together with the explorer, the names of more than 10 million earthlings. Or how that ensures that the unmanned device suddenly no longer looks so unmanned.
You too?

Would you like to come to Mars next time? Which can. NASA is already collecting registrations for a future mission to the red planet. Details about this assignment are not yet known, nor exactly when it will take place. What is certain is that the registrations flow in smoothly. To date, more than 4.7 million people have already booked a single trip to Mars.
Video. Joren and Calixte also went to Mars: 'My toes started to itch'

---
Important Alert
Dear reader.
I hope you are in health and well.
I offer you important instructions regarding this article
We only want readers to access information quickly and easily using other multilingual content, rather than information only available in a specific language.
We always respect the copyright of the author's content and always include
the original link of the Source Article , and if the author does not agree, leave the report below the article, the article will be edited or deleted at the author's request. Thank you so much! Warm greetings!
---
.
Source link
https://www.demorgen.be/tech-wetenschap/ook-de-naam-van-bijna-30-000-belgen-is-geland-op-mars-zo-schrijft-u-zich-in-voor-de-volgende-missie~b13d20f4/?referrer=http%3A%2F%2Fwww.bing.com%2F