Great drama today (Friday) in Dimona – in the rematch between Maccabi Dimona and MK Holon. 5 minutes to go Holon led by 5 goals (27:32), but Dimona imitated him and Yuval Katz equalized 4 seconds to go and set – 33:33. Holon has not yet secured its place in the top house (6th place, with 12 points), because Nes Ziona in 7th place – 10 points and two complementary games that will be held tomorrow against Maccabi Rishon LeZion (20:00, at Beit Maccabi) and on Wednesday against Hapoel Kiryat Ono By the way, if Holon and Ness Ziona finish the first round with 12 points, what will determine will be the overall goal difference, since the game between Holon and Ness Ziona ended in a draw.
Hapoel Ashdod defeated Maccabi Tel Aviv last night in a rematch from the 13th round – 26:35, thus Ashdod (in its ranks Nivo Levy excelled with 10 goals) finished the first round in third place (which guaranteed her a place in the quarterfinals of the State Cup). "A. Finishes the round in the penultimate place. On Monday, the upper and lower house games in the Winner League will start (even before the final game between Ness Ziona and Kiryat Ono – when in any case the one that finishes in 7th place is free in the first round of the lower house).
In the women's league, last night's initial derby provided a great thriller that ended in a 28:28 tie between Hapoel and Maccabi. Article link https://www.news1.news/news/2021/02/red-power-ashdod-defeated-maccabi-tel-aviv.html
The champion already led by 5 goals, but Hapoel Rishon LeZion equalized in the final minutes and achieved a dramatic equalizer in the last seconds. Nitzan Donai 9 goals, Shira Jerby 8, Shir Gabza 5, Amit Isaac, Nelly Aminov and Kim Levy 1 each scored for Maccabi . Hapoel – Anna Storzuk and Diana Cherukova 9 each, Katya Melnik, Vlada Kozmania and Anna Lazinsky 3 each and Oshri Cohen Nahum
Two more games were one-sided – Maccabi Ha'arazim Raj defeated Hapoel Kiryat Ono 8:39 (Shir and Karat 10 goals, Daniela Dragovitz 8 and Mai Yulzari 6), and the Herzliya girls beat AK Nes Ziona 13:40. Top: Hapoel Rishon First round with 15 points. Maccabi Rishon LeZion is second with 14 points (they both played 9 games). 3. Arazim Raj with 14 points from 8 games, and 4. Herzliya girls with 11 points from 8 games.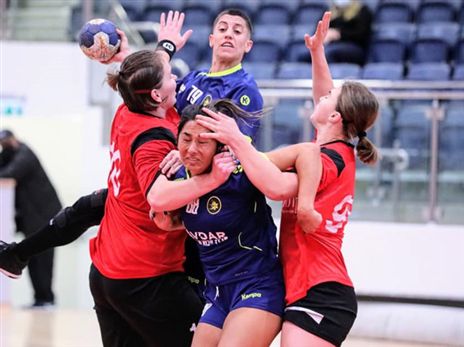 (Photo: Hadar Van Kula, Handball Association)
---
Important Alert
Dear reader.
I hope you are in health and well.
I offer you important instructions regarding this article
We only want readers to access information quickly and easily using other multilingual content, rather than information only available in a specific language.
We always respect the copyright of the author's content and always include
the original link of the Source Article , and if the author does not agree, leave the report below the article, the article will be edited or deleted at the author's request. Thank you so much! Warm greetings!
---
.
Source link
https://www.sport5.co.il/articles.aspx?FolderID=616&docID=361161