In imitation of his predecessors, does John van den Brom also bite his teeth on the laziness that regularly rears its head among the Genkies? "No", he is convinced. "On Sunday we prove that we belong in play-off 1."
Article link https://www.news1.news/news/2021/02/john-van-den-brom-the-result-on-sunday-is-not-decisive-for-my.html
The Dutch coach of Genk turned out to be extremely competitive on Friday afternoon and resolutely took the wind out of the sails of the journalists present. No questions. He immediately launched himself and returned to Wednesday evening. To the painful evening in Ostend.
"After the disappointing defeat, I felt it necessary to immediately take the bull by the horns. Hence a long group conversation. I insisted on staying with the players until something had been said. We have put ourselves in misery as a group, so we now also have to get out as a group. I invited the boys to speak for themselves and say what needed to be changed. Should I approach it differently, should they correct and help each other in a different way? Are we too nice to each other? Tactics, dueling power, correcting each other, the field occupation, all those matters have been discussed. To be clear, there has been no throwing at all, I am not like that. On the contrary. Afterwards I had a good feeling about it. "
De Condé hard but correct
Because apparently everyone had had their say. "We are here with a very diverse group," Van den Brom continued. "But the Spanish-speaking boys, who are usually quiet, also made their contribution. Danny Vukovic too, although mine had received bad news. Also Patrik Hrosovsky, who had not played in Ostend. Also the people on my staff. I like that. Even Alain Vanderlinden, our material manager, can feel free to express his opinion. "
That conversation was extended on Thursday. It was sports director Dimitri de Condé, who thought he should address the group.
"His words were harsh but correct," said Van den Brom. "You felt that someone was concerned about the course of events. Someone who fears that what we have worked so hard for is starting to slip out of our fingers. To give you an idea, it is sometimes said that someone is not worth wearing a club shirt. It was not so black and white. But still, it was in those terms. "
Conversation with chairman
Van den Brom himself also insisted on the discipline that everyone was expected to radiate on the field. Article link https://www.news1.news/news/2021/02/john-van-den-brom-the-result-on-sunday-is-not-decisive-for-my.html
The next talking session followed after the training. Between the coach and chairman Peter Croonen. "To be clear, I did not go there with shaking hands. Dimi, the chairman, myself we have very frequent contact. So that was not exceptional. It was just important that we looked at how we could turn the tide together. "
All these discussions had an effect, according to the coach. "You know, I am always optimistic and enthusiastic. Yet. I saw a workout on Friday morning that made me think, 'Wow. If we train like this every day, then we should be second to none. ' Quality, mentality, it was all there. I really can't wait for Sunday. I am convinced that we will confirm against Beerschot that we belong in play-off 1. "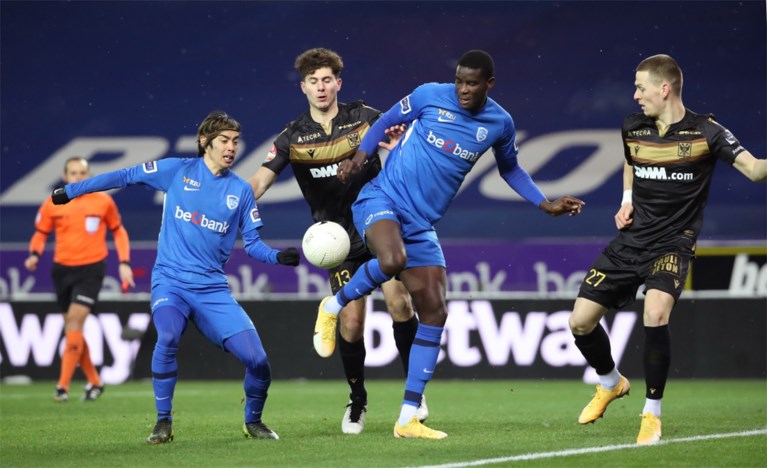 Ito the right, Theo to the left
That means a number of guys have to get up now. In the first instance the players who are supposed to make the difference. Article link https://www.news1.news/news/2021/02/john-van-den-brom-the-result-on-sunday-is-not-decisive-for-my.html
The triangle Ito, Bongonda, Onuachu. Have they, Bongonda in the lead, thrown the group discipline overboard in the past few weeks and did their own thing every week?
"Check their figures", says Van den Brom. "Paul 23 goals and 2 assists, Theo 12 goals and 3 assists, Ito 7 goals and 8 assists. Then you cannot say that they do not determine us. Are they less happy about themselves? Yes. But that also applies to the guys around the midfield and in the back. Do they abuse the freedom they are given? To make things clear: nobody gets a completely free role from me. There must be tactical discipline. So their three positions must be constantly occupied. Who where? That doesn't really matter to me. That increases the surprise for the opponent. But it is true that Paul mainly depends on flank balls and that Ito cannot give them from the left, for example. I have now pointed this out to them. So you will see Ito more on that right side and Theo on the left. Which doesn't mean they have to camp there for 90 minutes. "
Ronald Koeman
For the rest, Van den Brom wants to be an over-my-minded mentality on Sunday. "Look, if we play like eleven wimp and I sit there like a wimp on the couch, then nothing will come of it. But that will not happen. If they play on Sunday as they trained on Friday morning, then we take those three points. We have excellent players. Otherwise they would not be in Genk. But if the fundamentals – mentality, guts, energy, commitment – disappear, little will remain and we can lose to everyone. Busy, you say? Well, if it has a paralyzing effect, you don't belong in Genk. Point."
Van den Brom is already holding off the pressure on his own person. "It's not about me." But in the event of an eventual defeat by the Rats, his future in Genk looks dire. Sure.
"However, I have not felt that in the conversations," John concluded. "I don't have the impression that Sunday's result will be decisive for my further functioning in this club. In recent days this has been mentioned in the media. "If we don't win on Sunday, I'll get out." You know. My daughter has read that too and called me in tears. "Daddy, is that right?" I reassured her. I can place that very well myself. If it goes less well, you get bullshit. Or do you think Ronald Koeman is currently getting pleasant questions at Barcelona? If I can't take that anymore, I won't sleep anymore. Mind you, I slept badly on Wednesday. But I will get over it. Of course I feel pressure. But I did not feel like I was being called on Thursday. By the way, I want the same as everyone in this club. We have to get out of this together. "
---
Important Alert
Dear reader.
I hope you are in health and well.
I offer you important instructions regarding this article
We only want readers to access information quickly and easily using other multilingual content, rather than information only available in a specific language.
We always respect the copyright of the author's content and always include
the original link of the Source Article , and if the author does not agree, leave the report below the article, the article will be edited or deleted at the author's request. Thank you so much! Warm greetings!
---
.
Source link
https://www.nieuwsblad.be/cnt/dmf20210219_96498753