Blue and White will do everything to achieve unity, but will not give up any option to form a government, says Blue and White MK MK Benny Gantz at the Knesset faction meeting on Monday. "I pledge that even during the transition period, we can promote every issue that can be promoted and promoted.
Gantz also addressed a meeting with Prime Minister Benjamin Netanyahu last night, saying it was relevant, but "unfortunately we have not been able to make any real progress in it. I hope we will make such progress in the future." According to him, the negotiations we conduct will first of all be the security, the deficit and not the crumbling, the immunity or the tenure under indictment. The citizens of Israel are first and foremost. We will serve. We do not only need to hold the wheel but determine what way we want to travel. " Gantz also talked about meeting Jared Kushner. "We have discussed various issues, including security aspects, the Iranian threat, regional stability and the political process. I see a group around me that can address all of these challenges.
Gantz then attacked the Likud: "Twice in the past year, MKs have raised their hands in favor of elections. We in white and blue want to establish a liberal and broad unity government of the majority that serves the rule. It is time to decide for unity and against elections. One of the main difficulties is the Likud's insistence on coming up with an immunity block. A party that has been in power for over a decade is not ready to hold a substantive debate on basic content that the public needs and wants. But we will continue to talk to everyone. Listen to 'small' parties, but they can't dictate a national agenda. The good option was and a unity government remained with the Likud. Worst of all especially for the people of Israel is elections. "
After Gantz came to talk to MK Yair Lapid, who said that "a government can be formed in 48 hours. All that Benjamin Netanyahu needs to do is to be a two-party. The state of Israel no longer needs elections, it needs us to talk back in terms of togetherness and common goals, And shared values. " According to Lapid, Netanyahu used his 28 days only for one thing – to push for elections. He wants choices. That's what the lawyers offered him. That's what he needs because of the indictments. That's all that interests him. He wants to go to the elections. "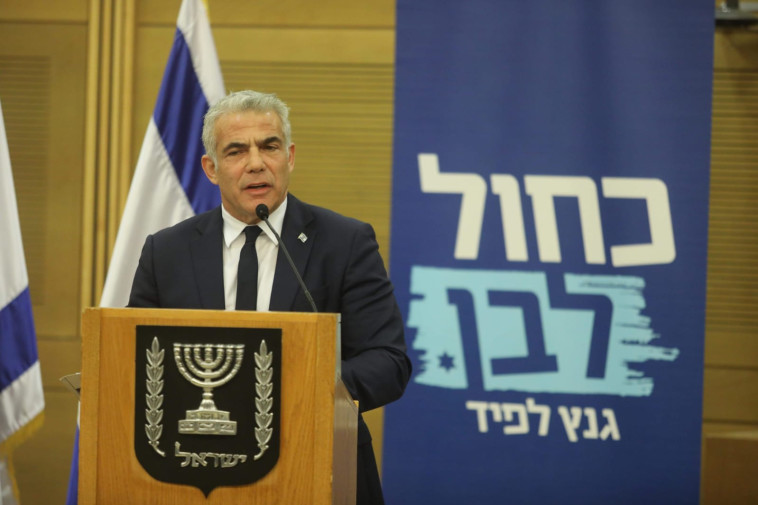 "I will tell you what the difference is between the 28 days that Netanyahu had, and our 28 days," Lapid added: "Netanyahu did not try to form a government, we do. I know what negotiations look like to form a government. I saw Netanyahu, I was with him in the room, When he did he wanted to form a government. He knew how to do it. That's not the case. Not this time. He made no offer on the table. He insisted on Litzman and Smutrich. He insisted on being first in rotation. He did everything to make sure it didn't work. "
"We, on the other hand, want to form a government. A liberal, civil, economic, unity government that knows how to address security challenges. You know that you will avoid an economic crisis and not pay billions for political blackmail. A white-blue government will lead. Our home and work will be key players in the Likud. Benny Gantz will be prime minister, he will be prime minister because we won the election, he will be prime minister because he has already proven that he knows how to form and lead a cohesive team. All attempts to dismantle him were unsuccessful and unsuccessful. He will be prime minister because most people went to the polls and said it was time For change. "


Source link
https://www.maariv.co.il/elections2019/news/Article-726214