The storm of spreading the details on Twitter: After the son of the prime minister, Yair Netanyahu, Published the details of activists from the "New Contract" organization in recent days on Twitter, and was summoned to court today (Sunday), lawyer Gonen Ben Yitzhak, whose details were also revealed, came to the program of Aryeh Eldad and Ben Caspit on 103FM to explain his side In the scandal: "On Friday night, I received incessant calls from blocked numbers."
Mercury: You took Yair Netanyahu to court, remind us of what?
Towards the end of the week, Yair Netanyahu posted a tweet on Twitter, in which he actually calls on active people to come and demonstrate in front of the homes of members of the New Contract Association, and he attached to his tweet a document containing our personal details, including IDs and addresses, and phone numbers, etc. And from that moment, from that seemingly innocent tweet, we started getting a wave of threats, harassment and all sorts of wishes like 'We will come to your home, burn your houses on your families, etc.'"And we filed a threatening harassment order against Yair Netanyahu."
Eldad: IDs are really just abuse, and I do not understand why they are needed. But once you stand up in the political arena, and turn yourself into soldiers in this arena, is it illegitimate to publish your addresses that will demonstrate against you as well?
"I will say in principle, not only do I have no problem with it, I also have no problem with demonstrations. The problem is not the issue of demonstrations. Demonstrations are Yair Netanyahu's half wink, I am in favor of demonstrations and freedom to demonstrate, and if anyone wants to come and demonstrate with me, then "It is his full right, I will also fight for his right. The problem is that it is not meant for that, but it is a direct continuation of an earlier tweet from his father, who tweeted about coming and wanting to murder him."
Finally a collection of summer masks that you can breathe with
Advocate Ben Yitzhak continued: "The Prime Minister posted a tweet about someone being caught trying to murder him with a picture of me, of course there is no connection between the fact that someone was caught with a knife in the Prime Minister's Office area and my picture, and the continuation of this tweet was our addresses, with The well-known wink of the Netanyahu family, the so-called, if someone comes out and decides to take action, then it's his business, it's weed, they are of course not responsible and they oppose it. And fact, thatImmediately after this tweet, the network erupted, and not only the network, our phones also erupted".
"On Friday night, I kept getting calls from blocked numbers," another lawyer said. "I do not turn off my phone, because I always come to the aid of protest activists who are arrested, people talk to me even in the small hours of the night, and all night there were phone calls and threats and curses, and everything related to it. But he's actually talking about the freedom to incite. What's more, he sends people not to demonstrate on any controversial political issue but it is meant to be a threat, so-called, 'You come to demonstrate with me, we will look for you to stop demonstrating.' I think come and do it. "It's not a democratic act."
Mercury: By the way, there are others who have been very hurt in recent days, her name is Professor Ruhama Weiss. In a video distributed by the prime minister and his son, about all the threats against them, and the calls for the assassination of the prime minister, etc., her picture appears there, ostensibly as if she had published a post calling for his assassination, which of course is absurd. never happened and never existed. Someone planted her picture on some post, and it appears in this video, and her life is not alive from the moment it came up. She asked in every language of request that they take down, at least the picture, and I understand now that lawyer Daniel Farmer is going to court with it tomorrow morning. Basically the exact same story.
To this the lawyer of the "New Contract" association replied: "Yes, exactly the same story. And I want to say something for a moment, which will not be misunderstood, I myself went to a police station when I heard that there was a fake Facebook profile calling for the assassination of the prime minister, and I filed a complaint Investigate this issue. And I do not care at all who is behind this profile. There will be a person from this side of the political map or from the other side. Calls for the assassination of a prime minister, from any side of the political map, is unacceptable, so, I went and submitted Complaint. But to come and incite against us, and actually call on people … Because I was not at home, my family went and left the house for safety. The threat is tangible, and the fact that the court today, despite all the disqualifying claims of lawyer Yossi Cohen, said Amira "It's very, very poignant both about their arguments and about the incitement itself."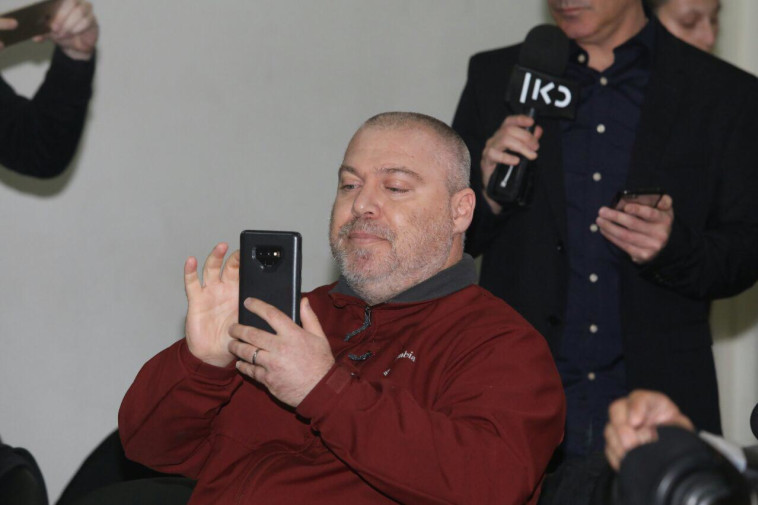 Eldad: But what good were judges in their regulation? So Yair Netanyahu deleted the tweet, but it was already on the net, and others will tweet it in its place.
"That's right. But, in fact, the judge also banned Yair Netanyahu's emissaries, that is, anyone who is currently doing so is in fact violating a court order. This does not mean that we will go and legally hunt down anyone who does it, but The fact that Netanyahu's entourage beeps at a court order speaks for itself".
Mercury: A lion, some of the heads of the association, Yishai Hadas, and who is another lion, first rolled over you?
Eldad: There is a list of three who were photographed eating breakfast at Waldorf Astoria.
Mercury: You realize this is a very bad picture.
"First of all, yes, the picture is bad. But, I will just say and apologize to all the listeners and listeners for the breakfast I ate, and only I ate it, which I paid for with my money. We met there because Friday Hadas and Haim Shadmi slept in this hotel. Haim Shadmi slept with Security guard, not staying home. "
Mercury: You are not improving the situation by the way.
"No, no, I'm not improving the situation, I'm telling the truth."
The scandal surrounding the disclosure of the details
As you may recall, the Jerusalem Magistrate's Court ruled earlier today in the case of Yair Netanyahu, due to the tweet in which he revealed the addresses of some of the leaders of the protest against his father. Netanyahu was ordered to remove the tweet, and was also banned from publishing anything that could bother the applicants for six months.
In her decision, Judge Dorit Feinstein wrote: "Therefore, I hold that an order for the prevention of threatening harassment is issued that prohibits the respondent from publishing anything that has bothered those seeking threatening harassment, including their personal details, even if they can be obtained with reasonable effort. If there is a concern that the respondent will again disturb the applicants, as the definition of this term in the law. "