The end of the extreme heat is in sight. After another tropical day, the first rain and thunderstorms enter the province at the end of the afternoon. The orange code due to the extreme heat was withdrawn by the KNMI on Wednesday evening. Code yellow still applies for persistent heat and heavy thunderstorms. Follow all developments via this live blog.
At the end of the afternoon, the first thunderstorm enters the province.
The KNMI has ended the code orange on Wednesday evening due to the extreme heat.
Thursday started with a refreshing shower in Eindhoven, Helmond and Tilburg, among others.
Check the current weather on omroepbrabant.nl/weer.
Do you have a nice photo in the heat, or of the bad weather? Send it to

[email protected]

and who knows, they might end up in the blog.
20.50
The height of the showers seems to be over. Most showers are now moving out of the province.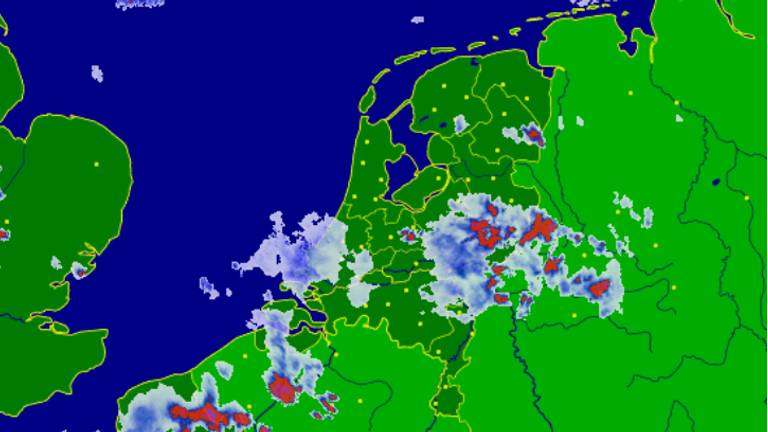 20.47
Roel's nieces were together watching the storm in Westerbeek.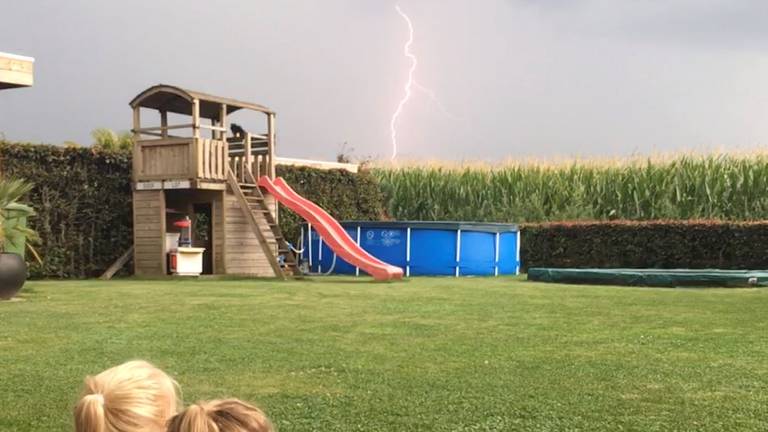 20.03
Water fun in Schaijk! Enough rain has fallen for surfing and paddling in the streets.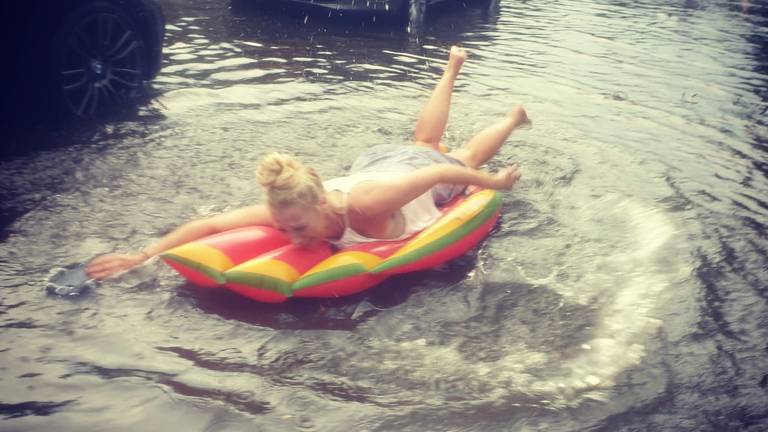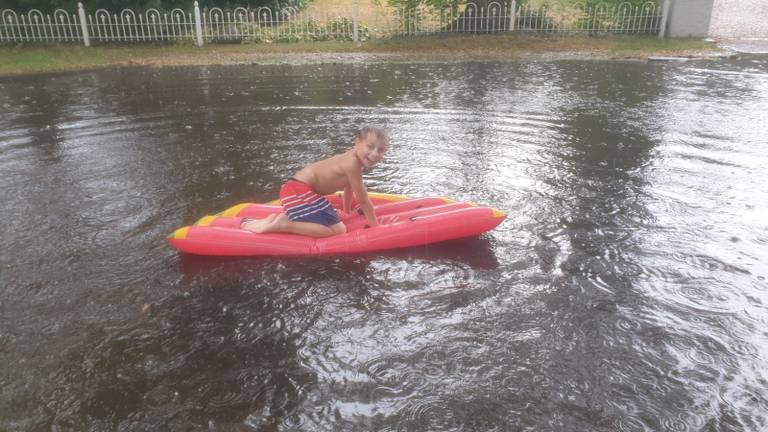 19.51
It also produces beautiful pictures: a thunderstorm above Wouwse Plantage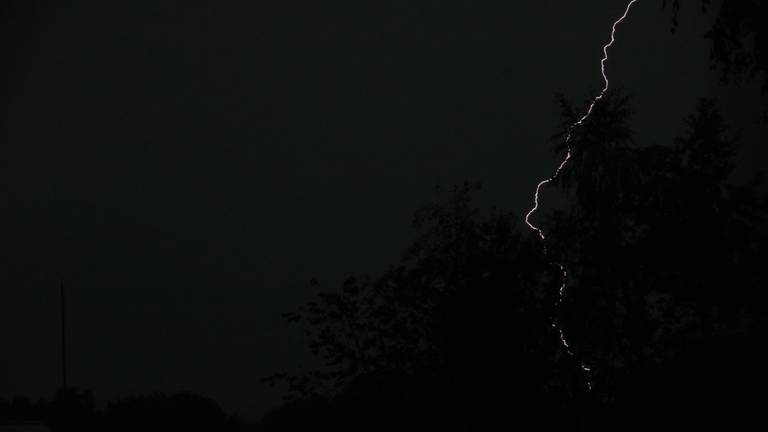 19.43
Things were also going well in Efteling. In an attempt to find a place to hide, the corona rules were briefly checked, Pim tweets.
Waiting for privacy settings …
19.21
It was probably a lightning strike that set fire to a shed in Vortum-Mullem. The fire brigade quickly got the fire under control.
18.43
Half an hour of thunderstorms in Sint Anthonis was enough for about 27 millimeters of rain. The rain gauge is almost full.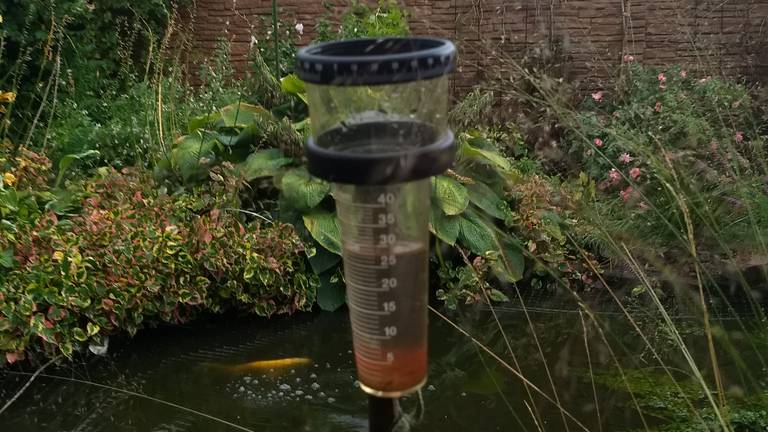 18.38
The biggest downpour seems to be over in Veghel, but the flooding will remain for a while.
Waiting for privacy settings …
18.33
The approaching thunderstorm is clearly visible in Eindhoven.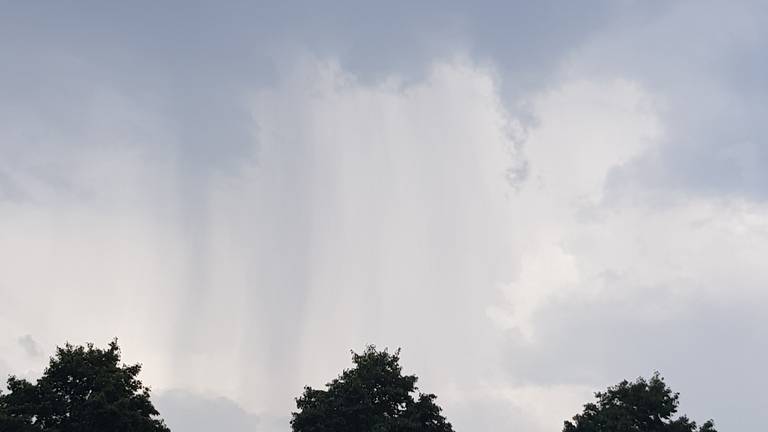 18.18
The rain and thunderstorms are currently mainly over the center and west of the province.
18.09
The Van Salm Salmstraat in Loon op Zand is also having a hard time. The street is almost blank.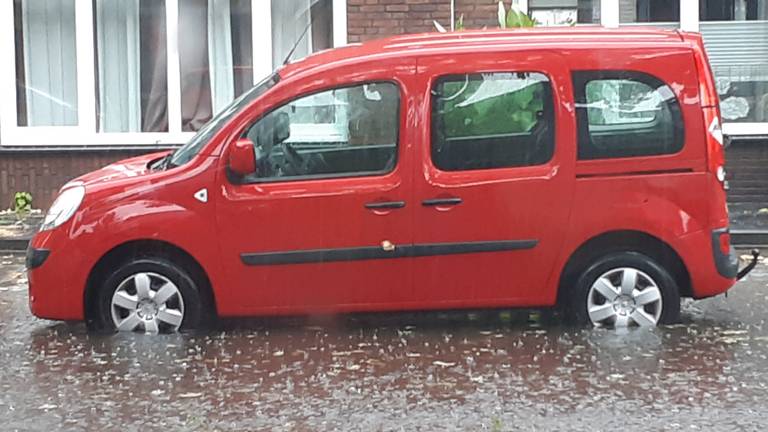 18.08
The bicycle tunnel under Midden Brabantweg near Loon op Zand in the direction of Kaatsheuvel has been closed: it has been flooded, the police said.
Waiting for privacy settings …
17.55
A tree fell on the Bosscheweg in Beek en Donk and ended up on a car. The car was damaged, but there was no one in it when the tree hit it. The fire brigade has removed the tree.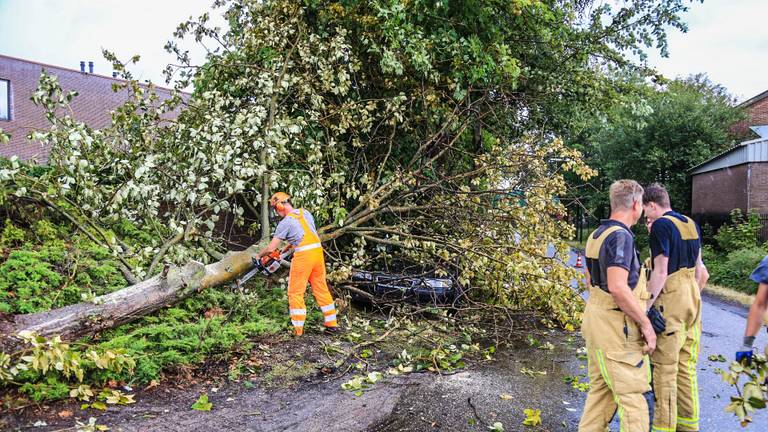 17.50
Hailstones fall down in Veghel.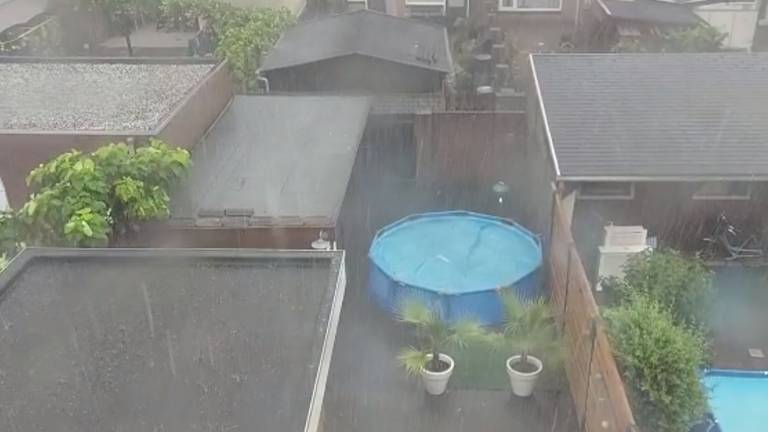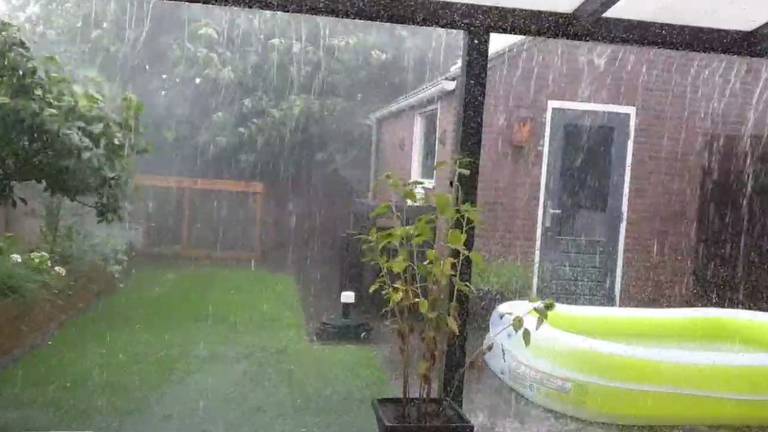 17.39
Rijkswaterstaat also warns: roads can become slippery due to a lot of rain in a short time.
Waiting for privacy settings …
17.36
The severe weather in Loon op Zand also causes damage. The police are calling to watch out for traffic.
Waiting for privacy settings …
16.47
There is a real cloudburst in Loon op Zand. With a large bowl of water in the backyard ….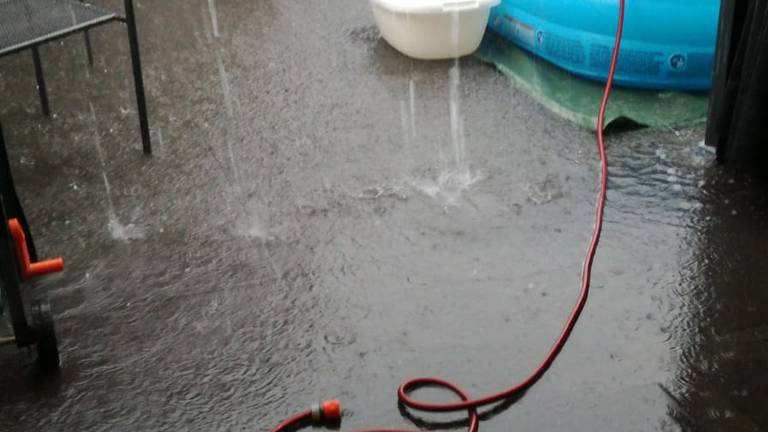 16.26
In Tilburg too things are now quite loose
Waiting for privacy settings …
16.06
It's always something …
Waiting for privacy settings …
15.56
The first storm enters the province near Baarle-Nassau. From now on, Weerplaza expects a rapid increase in the number of heavy showers in our province.
Waiting for privacy settings …
READ ALSO: First thunderstorms enter the province
15.48
A good dose of severe weather is forecast for tonight. But why is that so often the case in our province? Test your knowledge about bad weather in Brabant here!
Waiting for privacy settings …
15.37
This heat wave will go down in the books as the hottest week ever measured in De Bilt, according to Weerplaza.
Waiting for privacy settings …
15.30
If you want to take a dip with these tropical temperatures, pay attention to where you do it. Rijkswaterstaat warns against blue-green algae in the water. The amount of blue-green algae increases rapidly due to the heat.
Waiting for privacy settings …
15.01
Never before has it been so hot on August 13 as today. According to Weeronline it was a little over half past 33.2 degrees. The previous record was 33.1 degrees, which was in 1997 in Volkel.
14.41
It's thirty degrees again in De Bilt. This means that we have eight tropical days in a row in the Netherlands.
Waiting for privacy settings …
14.30
Heavy showers are expected in Brabant at the beginning of Thursday evening. These showers are accompanied by thunderstorms and hail may also fall. Weerplaza warns that tens of millimeters of rain can fall locally. Read the detailed weather forecast here.
14.28
The Galderse Heide near Breda is blooming beautifully. Henk Voermans took this photo: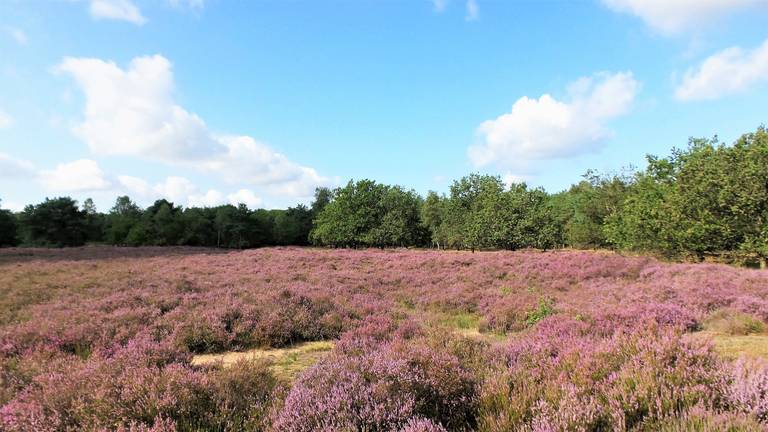 14.24
The heat wave has caused a lot of nuisance in the Netherlands from flies, wasps and maggots. According to the NOS, pest control workers work overtime. Not only are there more wasps in number, but there are also more different types due to the heat.
13.55
The heat is driven out of the country with heavy thunderstorms on Thursday evening. This is the map from Buienradar.nl for eight o'clock Thursday evening: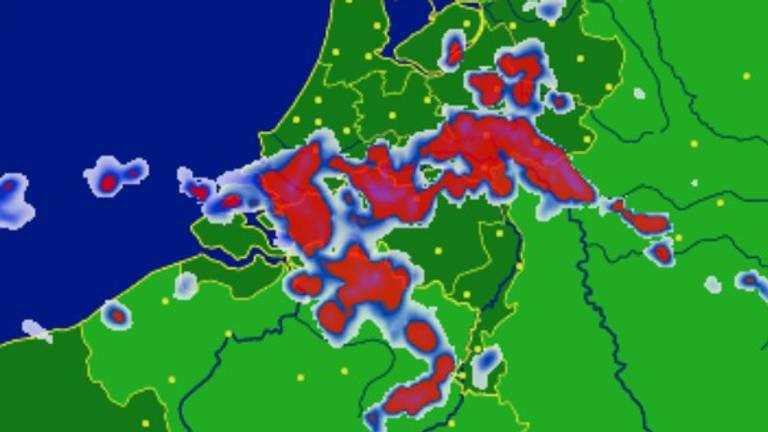 13.36
Everywhere people and animals seek cooling. Ben Saanen took this photo of bathing Scottish highlanders in Budel.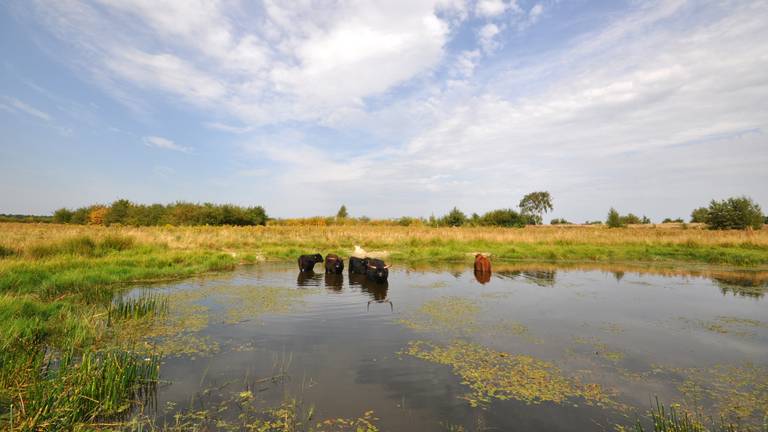 Diane van Veen took a snapshot of drinking horses:
Waiting for privacy settings …
12.06
The recipe against the heat: popsicles! You can read how to make your own here:
Waiting for privacy settings …
12.00
Five Brabanters will soon have a 'tiny forest', or a mini forest, in their backyard to combat the drought and the heat. Such a dense forest, the size of a tennis court, provides cooling and retains water.
READ ALSO: No swimming pool, but a mini forest in your backyard: 'It quickly saves 8 degrees'
11.15
Heavy rain showers, as predicted for later today, can cause damage in and around your home. Insurer Interpolis provides tips to prevent this damage.
Waiting for privacy settings …
11.00
Central government wants to have more options to limit the use of drinking water by households and businesses in an emergency. If necessary, under penalty of a fine. That writes De Limburger.
09.46
Rain radar warns of showers this afternoon, spicy ones!
Waiting for privacy settings …
09.30
The residents of Dierenrijk in Mierlo are also looking to cool off en masse these days.
Waiting for privacy settings …
09.00
Temperatures also rise to 30 to 33 degrees on Thursday.
07.40
Even today, according to weatherman Wilfred Janssen of Weerplaza, we can expect 'a sweltering warm day' with temperatures rising to around 30 to 33 degrees. He tells this while it is raining here and there in the province this Thursday morning. When the temperatures have risen everywhere again, we will have to deal with rain and thunderstorms spread across the province from four o'clock, which according to Janssen can be 'heavy' here and there with hail and considerable gusts of wind.
In the night to Friday it will be drier again, he indicates. Tomorrow, he says, the temperatures will drop below thirty degrees for the first time in more than a week with about 26 to 28 degrees. And Saturday even 25 degrees seems to be 'a challenge'. If we do not reach 25 degrees on Saturday, that means the end of the heat wave that started last Wednesday.
07.30
The rain is tapping gently on the attic window of Henk Voermans in Breda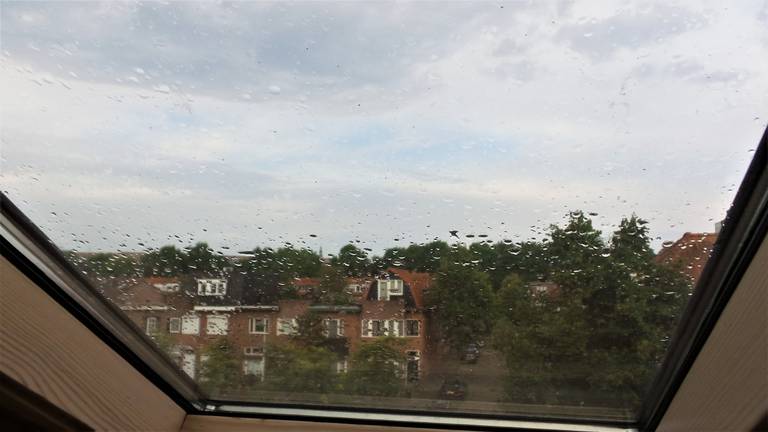 07.13
Anja Bastiaansen photographed the clouds over Made this morning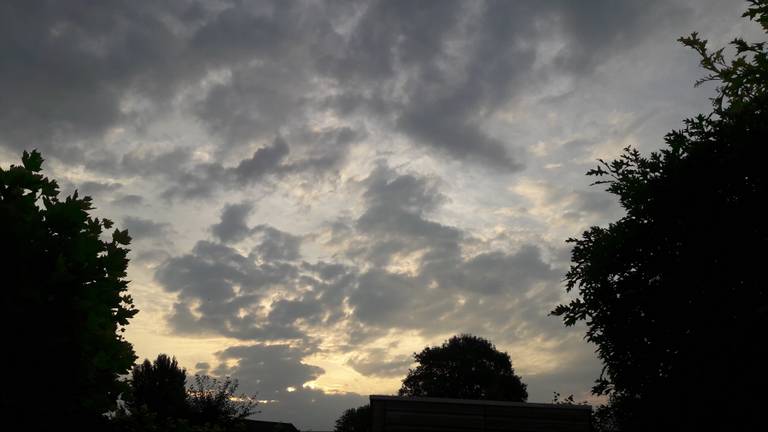 07.08
Rain! Yes really, in Eindhoven, Helmond and Tilburg, for example, the day started with rain.
Waiting for privacy settings …
Waiting for privacy settings …
07.00
In the course of the afternoon and evening thunderstorms can occur throughout the province. These showers can be accompanied by hail of up to 2 centimeters, wind gusts of up to 60 to 70 kilometers per hour and locally a lot of precipitation, about 20 to 40 millimeters, in a short time.
Later in the evening the showers in activity decrease, the KNMI reports. From four o'clock this afternoon to ten o'clock tonight, the institute has issued a code yellow because of the thunderstorms. In any case, this warning applies until Saturday for the persistent heat. The National Heat Plan of the RIVM is also still active.
Waiting for privacy settings …