Manchester City has bypassed the Madrid cliff in the Champions League. Just like in the first leg, it won 2-1, mainly thanks to two defensive mistakes from Raphaël Varane. Eden Hazard was allowed to start the match from Zinedine Zidane, but could not leave his mark at all.
Manchester City – Real Madrid in a nutshell:

Key moment: Real starts well in the second half, but after a second blunder by Varane, the CL adventure is over for De Koninklijke.
Anti Hero of the Night: Raphaël Varane. The French defender gave two gifts to City, twice the home team was happy.
Striking statistic: Just like last season, Real Madrid is killed in the 1 / 8th finals of the Champions League. They are not used to that in the Spanish capital because it was already from 2010 ago.
Ramos sees Varane blunder

City let Real the ball in the initial phase, but the visitors did not do much with it. After a good ten minutes of playing, Varane went wrong in his own sixteen. Jesus swallowed the leather, served Sterling for goal and immediately it was bingo for the home team.
Real's answer did not come immediately. On the contrary. City came close to the double lead thanks to Sterling, but the England international, in the interest of Real, took aim over. Ramos, suspended after red in the first leg, saw it happen in the stands with sorrow.
Half way through the first half Real came to threaten via Benzema. The Frenchman, captain on duty, set up the action himself, gave in well with Rodrygo and headed his cross past Ederson in goal: 1-1.
After the tying run, City took over again. Courtois first went flat on a shot from Cancelo, just before half-time he whipped a direct corner from De Bruyne just out of his cage.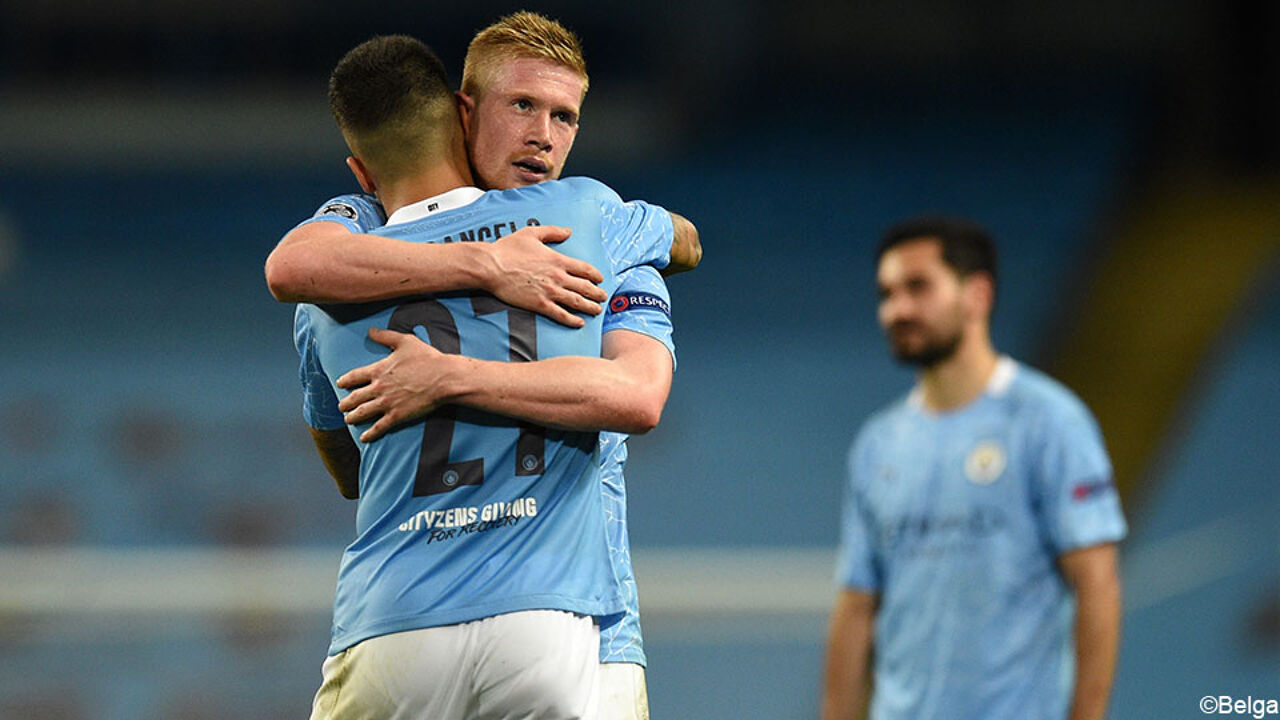 Hazard disappears from the game

Immediately after the break, De Bruyne tried again with a sharp corner kick, again Courtois was not surprised. A minute earlier he was already with the fingertips at a tight shot from Sterling.
Benzema also acted as the only field player at Real level after the break. Ederson did not reveal himself. Courtois also did not initially defend again weakly, but after a second blunder by Varane, the Belgian had to give in. Jesus himself was now the finisher.
Ramos meanwhile was very disappointed in the stands, with him in the center of the back this would probably never have happened.
After the 2-1, Real's answer was not forthcoming. It did not come from Hazard, who was put out of his misery 10 minutes before the end after a very lame game. In the quarterfinals, City takes on Lyon, which surprisingly bounced Juventus.
Eden Hazard vs. Kevin De Bruyne: 2 extremes