The Belgians dominate cycling. Wout van Aert currently seems to be the best in the one-day work and in the lap work Remco is dominating Evenepoel for the time being. Sporza cycling commentator Michel Wuyts likes to see it happen. "We left for 10 years, I think," he says in a Facebook Live at Maarten Vangramberen.
Which top performance should be rated the highest?

Michel Wuyts: "I was twice overwhelmed by the performances of Wout van Aert in Milan-Sanremo and Remco Evenepoel in the Tour of Poland. I will therefore not compare them. I will just remember that historic Saturday for a long time."
"A foundation has been laid for a fantastically beautiful decade. That is 10 years, hey. I was convinced that we would explode in a positive way and that we would stop everything with the talent that we have. My expectations were sky high."
"We had to wait four months for it, but it is happening now. Again: I look forward to a fantastic decade and hope to play another part in it."
"We certainly have the best classic rider of the moment. Van Aert wins his first monument and it is the hardest thing to win at all."
"He rides with Julian Alaphilippe on the Poggio and then puts him on it in the sprint. On a completely different terrain, he also surpasses everyone in the Strade Bianche. Actually, the classics that suit him best have yet to come with the Ronde and Roubaix. . "
"Van Aert has started a series and I assume that he will come very far in completing that series."
We certainly have the best classic rider of the moment.
Can Remco Evenepoel already win a big round?

Michel Wuyts: "Why do you think I am wearing a pink polo? I wanted to make a statement. I really believe he can win the Giro. Knowing that you have to give someone 20 years old permission to fail. But there are signs. who tell me he won't. "
"In the Tour of Burgos, he wins a stage with an uphill finish in a very calculated way. He is guided by team leaders, who say:" try it "and then extend his lead. He will also need that in the Giro, for example on day four on Mount Etna. "
"Add to that the fact that the Giro has to drive 65 kilometers against the time. Hooray! And then comes that crucial third week. If he shakes a number out of his legs there once, like in Poland, then we are level. "
Shouldn't Evenepoel better drive the Tour now that he is in top form?

Michel Wuyts: "No, I don't think so. The Deceuninck-Quick Step team is currently not sufficiently loaded with top climbers to surround Evenepoel in the high mountains of the Tour de France. He could be swallowed up by Ineos and Jumbo-Visma. "
"Climbing talents such as Joao Almeida and Andrea Bagioli are already there. The Portuguese was not inferior to Evenepoel in Burgos, but he can't do what the Belgian did in Poland."
"Patrick Lefevere is already working on the development of such a Tour team. There is still an addition, but if the aforementioned young people can grow with Evenepoel, they are on the right track. Also types like Tim Declercq and Yves Lampaert. he needs for the flat and middle mountains. "
I really believe that Remco Evenepoel can already win the Giro.
Can Van Aert win all monuments?

Michel Wuyts: "Yes, that should certainly be possible. The Tour of Lombardy will be the most difficult for Van Aert to win, but he is climbing really well. He will go up on stage with Tom Dumoulin, Primoz Roglic and Steven Kruijswijk."
"But what strikes me most is that he achieves values ​​close to 6 when we look at the ratio of watts per kilo of body weight. That is fantastic for a 77 kilogram boy.
"He has shown on the Poggio that he also has a great descent. His return to Alaphilippe does not come just like that. He has ridden three seasons behind Mathieu van der Poel in the cross. Always with the tenacity to stick to seconds. His statement after the finish also spoke volumes: "I would rather eat my wheel than Alaphilippe beat me here", he said and that says a lot. "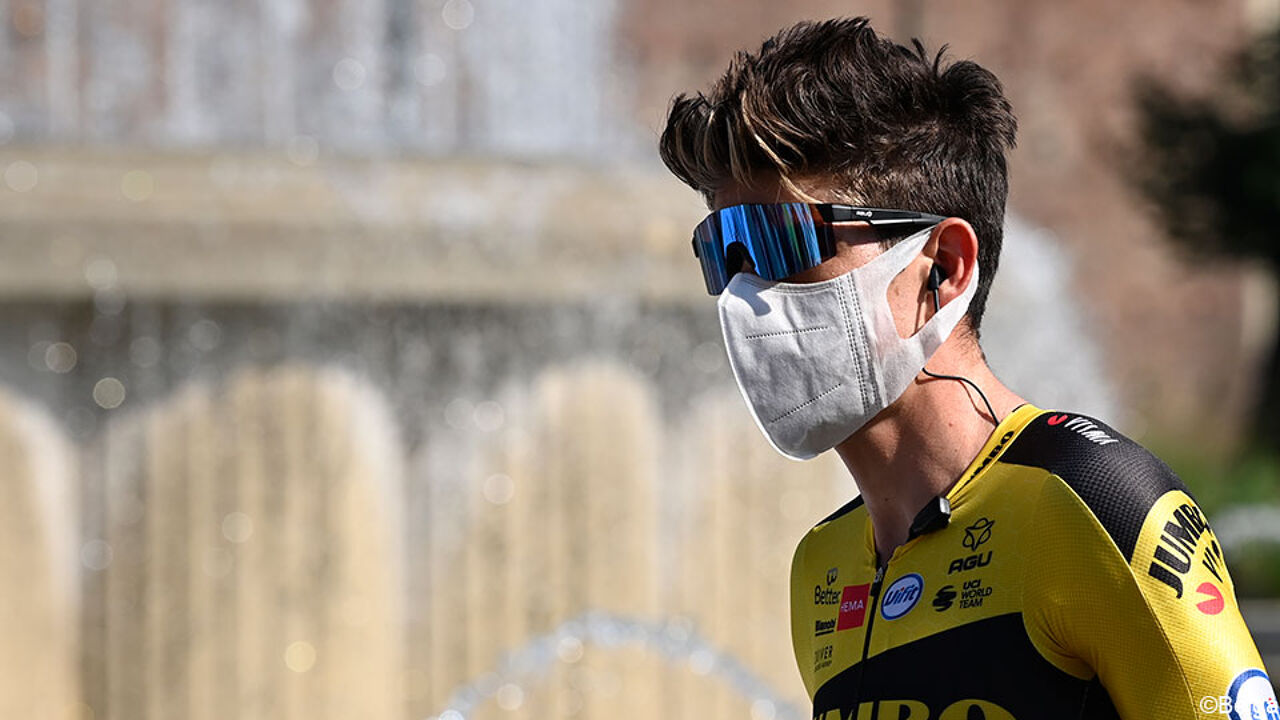 Are you also curious about the BC time trial?

Michel Wuyts: "That could well be the best time trial of the year, with all men from ours. Van Aert has a phenomenal time trial in his legs, just look at last season's Dauphiné."
"I would also send Van Aert to the Games. We are already talking about a champion and you don't just leave them at home. If they show a flaw in the preparation, you still have to give them the benefit of the doubt."
"The World Championship time trial will be difficult, because that coincides with the final day of the Tour. What nonsense of the UCI. I hope they use it at Jumbo-Visma where necessary, for example in the first tough week, and not. only let servants. There are a number of Tour stages for his body. "
A number of Tour stages have been tailored to Van Aert's body.
What did you think of the competition in Milan-Sanremo?

Michel Wuyts: "I found Mathieu van der Poel not overwhelming. As if a cloud of helplessness fell over him. Last season he did wonderful things in the spring. You should expect that now too, but it does not happen. I don't have an immediate explanation for that. Maybe it's very simple and he can't stand the heat. "
"Greg Van Avermaet should then grow again and assume that his period will come in October. The somewhat older bodies will need competition in the compact season to be at their best in the Ronde and Roubaix. "
"Philippe Gilbert could not try anything again because younger elements with more gravy in the legs took the initiative earlier. He knows better than anyone that you have to be alert. He no longer has the youthful explosiveness. "
"The doubts about it Peter Sagan are then confirmed again. He had no response and admitted it. It just went too fast, he said afterwards. His sprint was not bad and that offers perspective for what is to come. Of course, you also settle Sagan for defeats. No longer in good places of honor. Is that fair? You count him on the best version of Sagan you ever saw. That's the case with three-time world champions. "
The thing is, you settle Sagan on defeats. No longer in good places of honor. Is that fair?
Has Van Aert become a better rider after his heavy fall?

Michel Wuyts: "It is a cliché that you come back better from a serious injury. I also believe in that. What happened to him, that confirms that. He has started to concentrate on the muscle groups around that injury area and that strengthening helps. In terms of mindset, he has the right greatest victory there is to be had. "
Where do you place Evenepoel's victory in the Tour of Poland?

Michel Wuyts: "At the very highest level. Even higher than the Tour of Burgos, although there was the reassurance that he can also win arrivals above. That victory was essential. But what he does in Poland is typical for him."
"Out of nowhere to types like Jakob Fuglsang, Rafal Majka and Simon Yates say" adieu "… At 35km from the end I checked for the first time and saw 50 seconds as a difference. Then I thought he would make it narrowly After Milan-Sanremo I looked back and he won 1'45 ". That's "crazy"! "
Watch the Facebook Live with Michel Wuyts: