45 + 1 '- Geel – Evgeniy Makarenko

22 '- Goal – Terem Moffi (0 – 1)
90 + 4 '- Cont. Ilombe Mboyo by Abdul Ajagun

83 '- Goal – Hannes Van der Bruggen (1 – 2)

77 '- Cont. Christophe Lepoint by Faïz Selemani

62 '- Cont. Terem Moffi by Habib Guèye

59 '- Goal – Igor Plastoen (1 – 1)

59 '- Cont. Dogbole Niangbo by Tim Kleindienst

54 '- Cont. Niklas Dorsch by Roman Bezoes
Jupiler Pro LeagueMatchday 215-08-2020 19:00
83′
Hannes Van der Bruggen
1 – 2
After two match days, AA Gent's counter is still at 0 points. It lost 1-2 to KV Kortrijk in-house after another poor performance. Ex-Gentenaar Hannes Van der Bruggen made the decisive goal seven minutes before the end.
AA Gent – KV Kortrijk in short:

Man of the Match: Hannes Van der Bruggen was the best man on the field against his ex-club. He topped off his good game with the winning goal deep in the second half. Goalkeeper Adam Jakubech also deserves a mention.
Striking statistic: Ihor Plastoen is currently the fastest scoring resident of Ghent. The defender headed his second of the season against the ropes today. The cannon of the Ghent strikers is not yet properly adjusted.
Roef prevents worse before half time

After a study round of more than twenty minutes with hardly any danger, the Kortrijk lead suddenly fell from the sky. Plastoen miscalculated a bit, Moffi took advantage and shot the 0-1 neatly past Roef, who was preferred over Kaminski in the Ghent goal.
The answer from the home team came through Yaremchuk. Jakubech was good at the shot and also on the corner that followed the KVK goalkeeper was right on a header from Ngadeu.
Just before half-time it was almost 0-2. Van der Bruggen sought the top corner with a placed shot, but Roef was there too.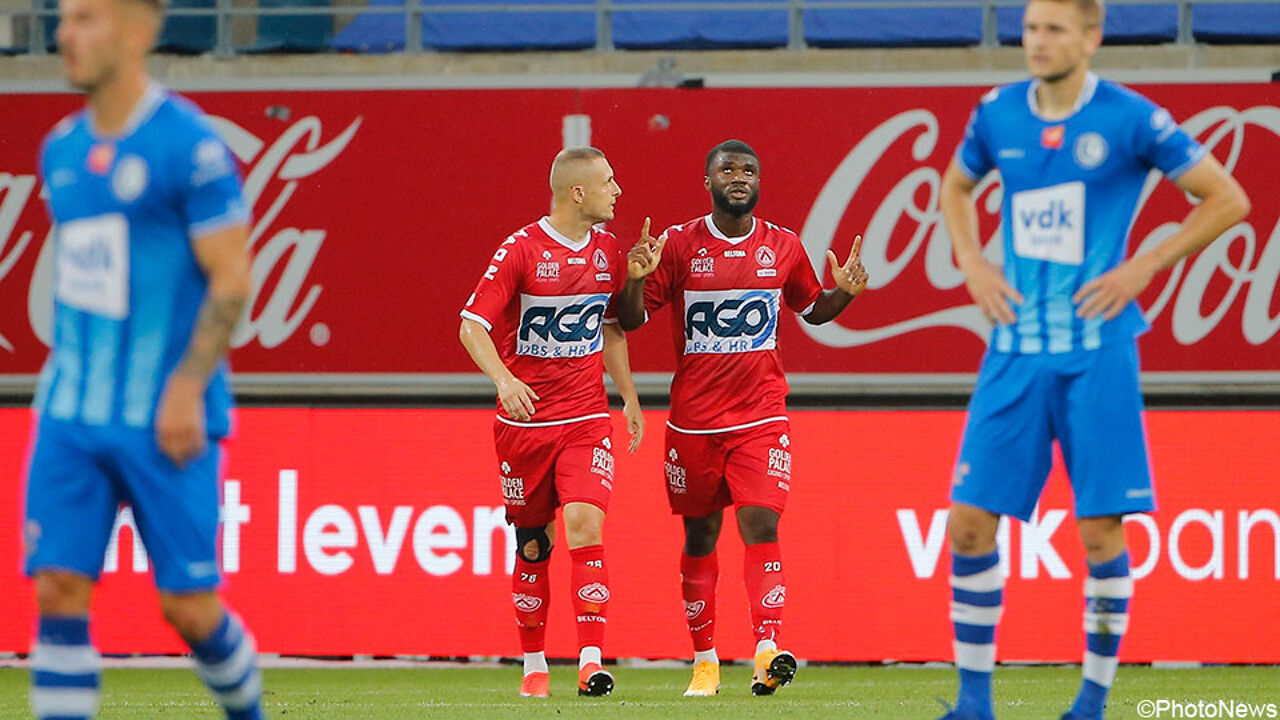 Ghent is surprised in the castle

Immediately after the interruption, Roef had to distinguish himself again on a slide from Dewaele. Mboyo also tried against his ex-team, but aimed high.
Jakubech had to give in on the hour without Gent being really dangerous in the second half. Plastoen, who made a mistake with the 0-1, nodded his second of the season through the ground.
"On it and on it", you think. But nothing could be further from the truth. KVK took over again. At first Van der Bruggen aimed in the side net, more than five minutes before the final whistle he had his goal after a nice attack from Kortrijk: 1-2.
A final offensive from Ghent was no longer possible and Kortrijk easily held its own. After the final whistle, the faces of De Witte and Louwagie were on a thunderstorm in the stands. 0 out of 6 is not the start of the season that the Ghent bosses had in mind.