Starting grid (top 10) and tires mounted at the start
1ª Fila
1. Lewis Hamilton n.d.
Mercedes
2. Max Verstappen n.d.
Red Bull
2ª Fila
3. Carlos Sainz n.d.
McLaren
4. Valtteri Bottas n.d.
Mercedes
3ª Fila
5. Esteban Ocon n.d.
Renault
6. Alexander Albon n.d.
Red Bull
4ª Fila
7. Pierre Gasly n.d.
Alpha Tauri
8. Daniel Ricciardo n.d.
Renault
5ª Fila
9. Lando Norris n.d.
McLaren
10. Sebastian Vettel n.d.
Ferrari
Difference between compounds and longer stints (Pirelli data)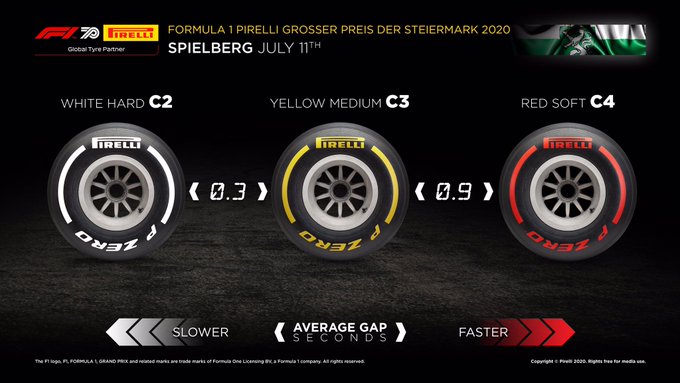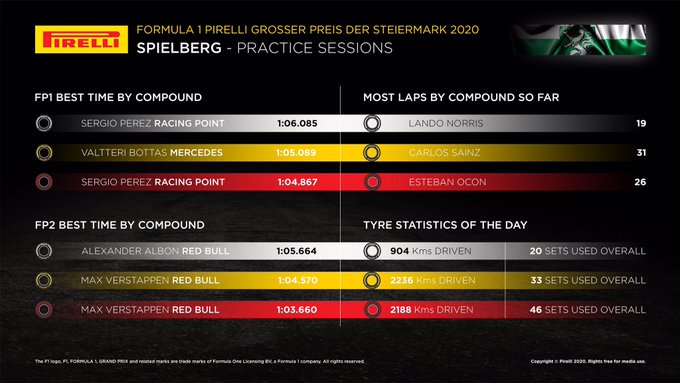 Best strategies out of 71 laps of the GP Styria (Pirelli data)
The race should take place in the dry, with lower temperatures than last Sunday. On paper, the best strategy is to stop, slightly different from the previous race given the better performance of soft tires. The fastest saw a first stint on P Zero Red soft for 28-33 laps, then P Zero White hard to the finish. The second tactic has the first part of the race on P Zero Yellow medium for 30-35 laps, then soft. This strategy can also be reversed. A stopover strategy is very similar, with medium for the first 24-30 laps, then hard. A tactic on two stops is much slower: first two stints on P Zero Red soft 24-26 laps each, then medium.
Tires available for the race (Pirelli data)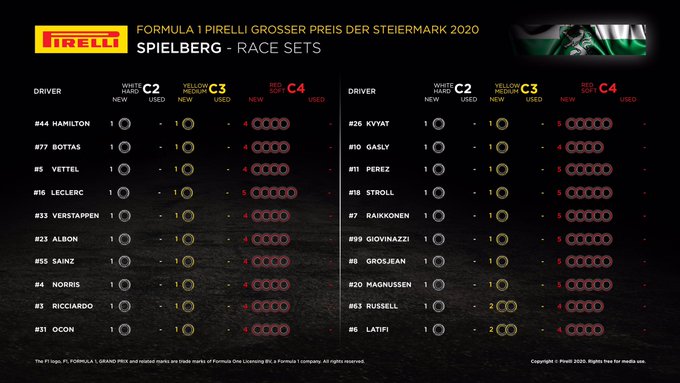 Long run of the pilots in PL2 (unknown petrol and power mapping – credits @ tonisokolov1011)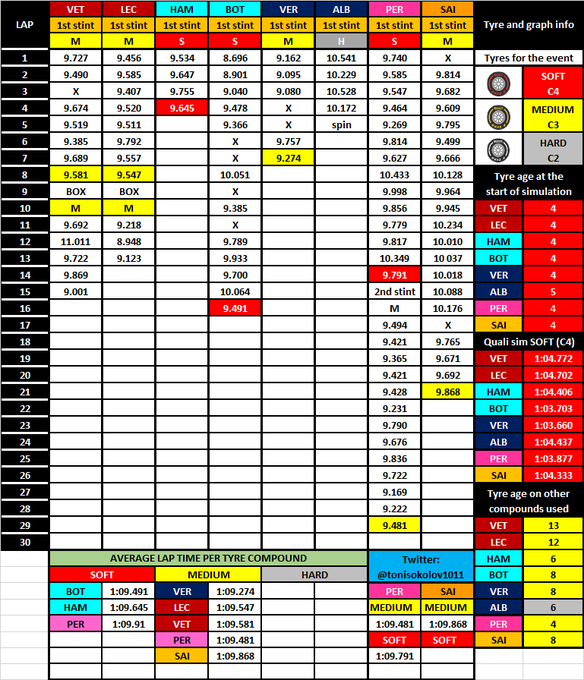 Weather forecast for the race (15.10 Italian and local time)
3 pm: Mostly cloudy, 20 °, wind 9 km / h NE, probability of rain 47%
4pm: Mostly cloudy, 21 °, wind 13 km / h ENE, probability of rain 35%.

Television programming in Italy
Diretta Sky Sport F1: 13.30 Paddock Live, 15.05 GP Stiria, 17.30 Paddock Live
Differita TV8: 16.25 Paddock Live, 18.05 GP Stiria, 20 Paddock Live
Source link
https://www.formulapassion.it/motorsport/formula-1/gp-stiria-2020-analisi-passo-gara-griglia-dstrategie-gomme-meteo-orari-tv-sky-tv8-504303.html