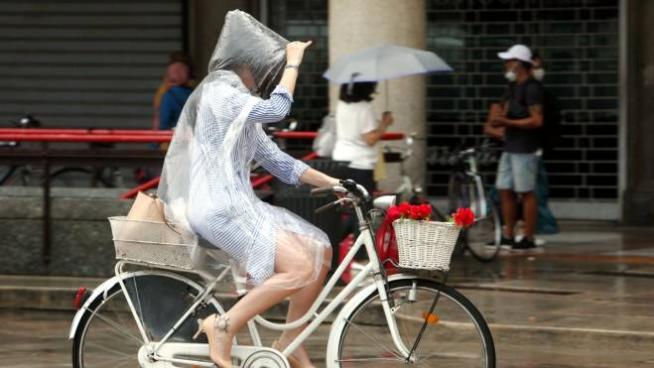 Rome, July 1, 2020 – After hot days, a powerful storm blitz. The
forecast
in the coming days they announce an important worsening starting from Northern Italy, with the African anticyclone beginning to lose power due to the arrival of cooler air from Northern Europe.
On the basis of available forecasts, the Department of Civil Protection has already issued a notice of today adverse weather conditions. The phenomena, impacting on the various areas of the country, could cause hydrogeological and hydraulic problems. The notice provides for rains with a prevalent downpour or thunderstorm, on Piedmont and Lombardy, especially on the relative central-northern sectors. The phenomena will be accompanied by heavy showers, frequent electrical activity, hailstorms and strong gusts of wind. On the basis of the expected and ongoing phenomena, a yellow alert for thunderstorm risk was assessed over most of the Piedmont and of Lombardy.




On the rest of Italy – reports ilMeteo.it – ​​the sun will be prevalent and the temperatures very hot (peaks of 40-42 degrees on Puglia, Sicily and Sardinia).
Summer 2020, empty beaches between Covid and bad weather. Peak attendance: that's where
Thursday's weather
For the whole day of tomorrow, Thursday 2 July, the Civil Protection has spread a yellow alert for thunderstorms in Emilia Romagna (especially in the plains) and wind (especially in Romagna). During the day, "ventilation will tend to strengthen from east-north-east over the central-eastern sector of the region", reads the text of the alert. Strong winds are expected "with gusts between 62 and 73 kilometers per hour and locally even higher". During the second part of the day the plain "will be affected by locally intense thunderstorm phenomena".
The map of 3bmeteo
(The article continues below the map)
The weather of the weekend
From Friday 3 July – explains ilMeteo.it – ​​time will change radically. The entry of colder air that will mix with the pre-existing hot air will trigger the formation of violent storms that could affect most of the northern regions. Widespread, hailstorm and rainfall are expected all day long risk of tornadoes. Particular attention to flat areas of Lombardy, Veneto and Emilia where the phenomena could be very strong. In the afternoon thunderstorms will also reach Marche, Umbria and locally Abruzzo. Over the weekend the bad weather will move towards the Central South, while the pressure will return to increase in the North. Saturday 4th July, in the morning last clouds and rain showers on the Northeast, thunderstorms will travel from the Center to the South, mainly affecting the Apennines and the areas adjacent to them. Sunday 5th July, sun prevalent in the Center and North with a warm climate again, some storms will hit Calabria, Basilicata and Cilento.




Source link
https://www.quotidiano.net/meteo/previsioni-del-tempo-luglio-2020-1.5279192