In the end they succeeded, placing in the middle of the summer under an umbrella and insufficient returns, lasting more from funds than from families or businesses, a real flop!
The new Btp Futura does not take off: only 6 billion from savers … really good at proposing an opportunity to use the #MES very good! https://t.co/LaF0HBSsy8

— Andrea Mazzalai (@icebergfinanza) July 11, 2020
Mute debut for the anti Mes title, the future BTP stops at 6 billion https://t.co/hecYcC79au

— Andrea Mazzalai (@icebergfinanza) July 11, 2020
No interesting premium in terms of yields compared to other ten-year BTPs on the market, will be listed only on the MOT 1.38% with the minimum guaranteed premium, in the end removing "assets" from the Monti government and taxation, just a little more than 1 remains %.
Counting on the maximum premium of 3% is little more than an illusion, given what awaits us in the coming years worldwide, pure illusion to think of a similar rebound in GDP in the coming years.
About 64% of subscriptions were less than 20%. Not even to do this on purpose 62% of subscriptions come from the retail sector, only 38% from private banking, there are other products to be placed in the bank or in managed savings.
No, it is not a good sign especially after Europe is preparing yet another trap, MES via recovery fund.
A prime minister like Conte who goes to an Italian restaurant in the Netherlands before an important meeting like that of Friday to ask for pleasure in any country like Holland, he had never seen him, never!
Summit in the Hague, the Dutch diktat: "Eliminate Quota 100". Count: you are not the troika https://t.co/RBBkUfwp7r

— Business Community (@bizcommunityit) July 11, 2020
It is at least annoying to hear these German watchdogs raise their voices, when in their home everything is a financial breakdown from the banking system to the debt of families and businesses …
#RecoveryFund, Kurz warns: "Negligent not to ask Italy how it will spend the money" https://t.co/2KVgOUNUqq #agi #Austria

– Agi Agenzia Italia (@Aenzia_Italia) July 12, 2020
Recovery Fund: #Finlandia, proposta #Ue inaccettabilehttps://t.co/sFZoESFJcG #RecoveryFund

— ANSA Europa (@ansaeuropa) June 4, 2020
Michel had already tried to give a little content to the "clever" countries but it went very badly …
+++ FANTASTIC +++ the maquillage of Michel's #RecoveryFund foresees for Italy tax increases, labor and pension reforms and for the clever and whimsical countries more than frugal less funds to the budget and control over our accounts! Sincere congratulations!

— Andrea Mazzalai (@icebergfinanza) July 11, 2020
"EVERYONE TAKES A STEP"
Recovery fund, the president of the EU Council confirms the proposal of 750 billion as a basis for negotiations [Leggi] https://t.co/euM7ZhTtkW

– Il Fatto Quotidiano (@fattoquotidiano) July 10, 2020
While sleeping under an umbrella, amateurs in jeopardy are playing with our future, the new proposal of this plutocrat is very simple.
Taxes for all to repay these funds, not only new reforms, but the usual reforms, therefore pensions, welfare, VAT taxation and so on, less contributions to the European budget for cunning countries.
After weeks spent listening to the ESM lovers, hypocrisy and lies, perhaps reading what they write in Germany maybe someone lights up …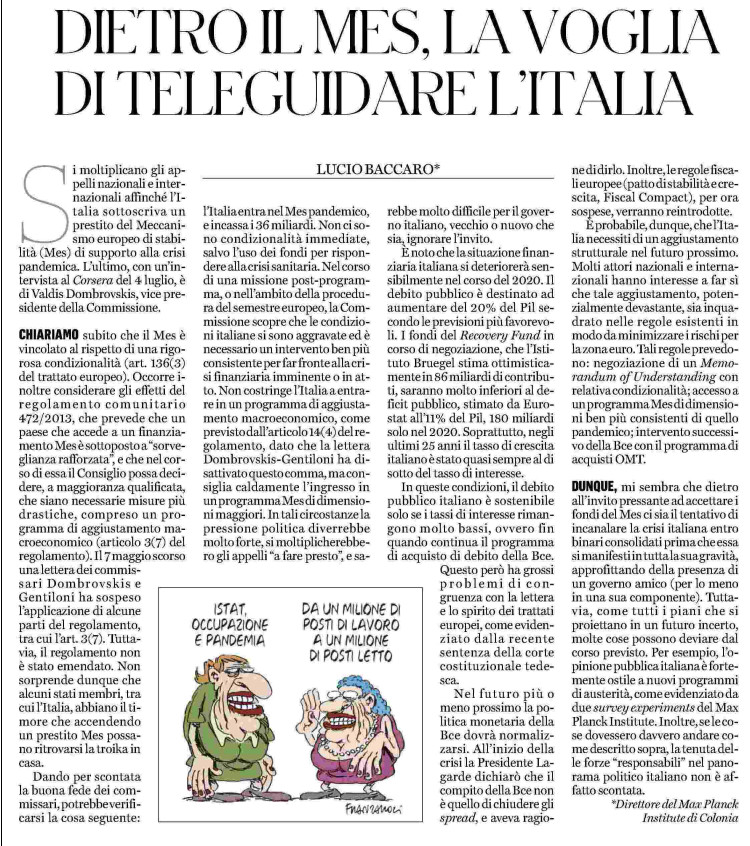 Dear Guys, if you do not understand what is happening, do not complain tomorrow about the train that is about to fall on your houses.
Instead of wasting time with fantasy funds and troika horses, get busy issuing government bonds, you don't need long-term bonds, if you don't want to pay a penny for 12 months which have returned to negative returns in the last few weeks.
Rates below zero in the 12-month Bot auction, Tuesday BTP maxi-auction https://t.co/HHbTnmkm7F

– finance information (@infoiteconomics) July 12, 2020
In 2019 the average life of the Italian public debt, according to the Treasury was 6.87 years, there is no reason to extend the maturities of the securities too much, other than MES, let's take advantage of them!
Someone gets excited for a wonderful rebound in production …
#Fitch confirms Italy BBB- rating, stable outlook. Industrial production in May + 42.1%. Gualtieri: 'Encouraging data' #ANSAhttps: //t.co/SVrNuQrn1j pic.twitter.com/wJC5UIBVIo

– ANSA agency (@Ansa_Agency) July 10, 2020
Tell Gualtieri, the one who expected a collapse of some punticino that we are at -20% since last year and that after the -50% of April and May it was natural to witness a rebound since almost everything was reopened.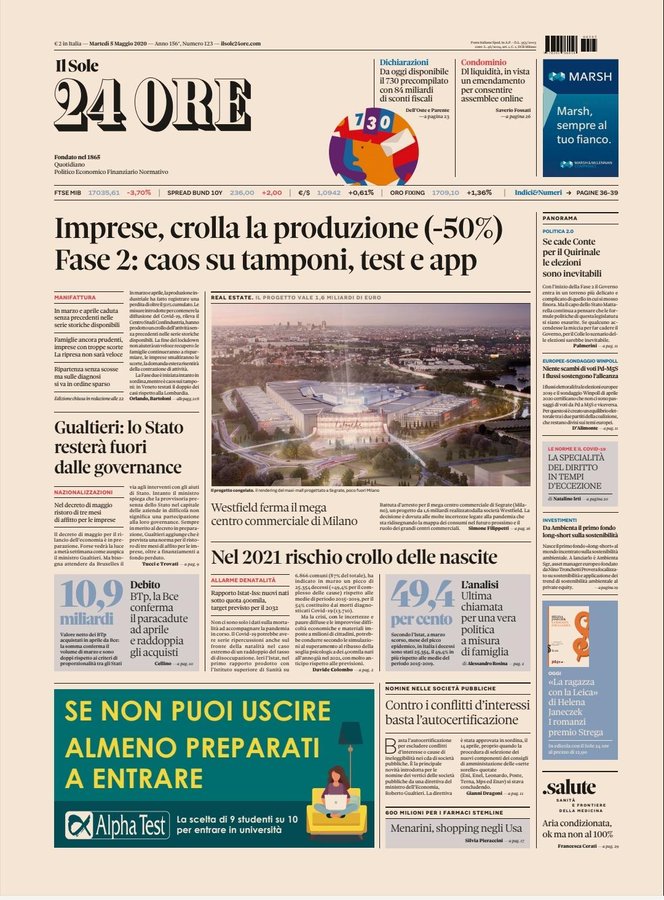 Maybe someone has escaped but history teaches that it is always good not to trust, especially the merkel, the recent developments in the elections of the new Eurogroup president by secret ballot, the Spanish candidate supported by Italy, Germany, France and Italy has suffered a heavy blow, a clear message for those who believe that Friday's meeting will be a walk.
This is good news Italy Spain France and Germany have been defeated by the secret vote of those who favor a greater rigor in aid interventions and a real defeat to Merkel and help at the same time https://t.co/AG1QS2c6wS

— Andrea Mazzalai (@icebergfinanza) July 11, 2020
Never trust Germany EVER!
Behind the German ostracism towards the film "Adults in the Room" there would be powerful hands in particular the German director of ESM Regling who are now preventing its distribution in Germany. https://t.co/J9VYLixyXg

— Andrea Mazzalai (@icebergfinanza) July 12, 2020
Behind the German ostracism towards the film "Adults in the Room" by the great Greek director Costa-Gavras there would be powerful hands that first opposed its realization, in particular the German ESM director Klaus Regling would have asked Costa-Gravas to abandon the film project, and which are now preventing its distribution in Germany. The always well-informed German Foreign Policy writes about it
Bets are open! Recovery Fund, Rutte: 'No agreement is needed on July 17th' – World – ANSA https://t.co/5fiCa53eof

— Andrea Mazzalai (@icebergfinanza) July 12, 2020
There is no hurry, no hurry crowd to end in July!
Meanwhile in America producer prices are collapsing with many greetings to those who waited for the explosion of inflation for a collapse of the offer, this is a debt deflation and the only daily explosions are deflationary ones!
Falling prices for services pulled producer prices 0.2 percent lower in June, well short of Econoday's consensus for a 0.4 percent gain. pic.twitter.com/DPupnJLiXt

— Econoday, Inc. (@Econoday) July 10, 2020
The daily records of the spread of contagion in America due to the increase in tests, but not only, continue and American hospitals are beginning to have some saturation problems …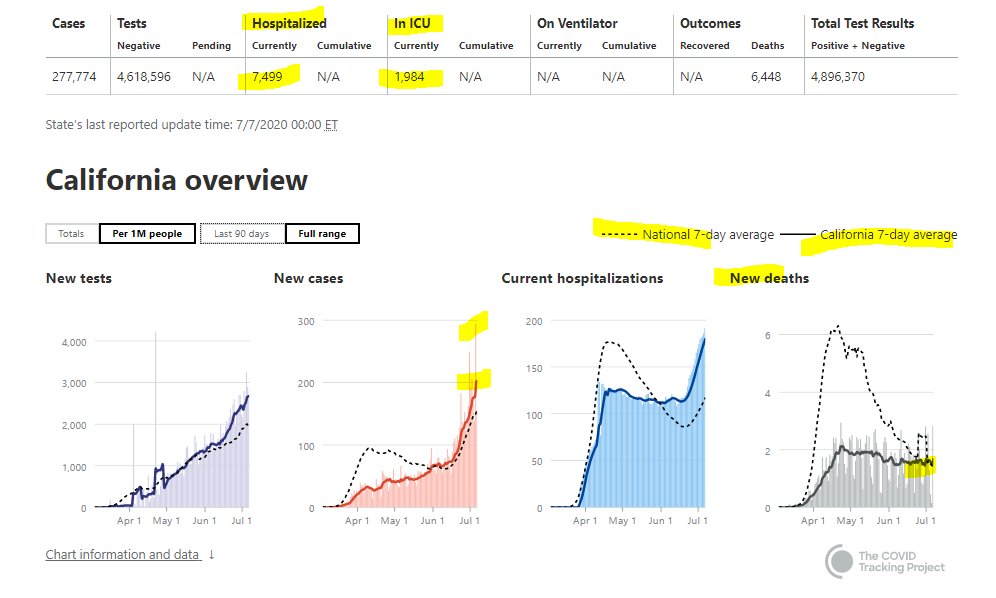 Yet why worry if hundreds of thousands of Americans line up with their cars to pick up some food in the various regional food banks, files that increase day after day, really naive these Americans do not know that Wall Street is at the maximum and what occupation and consumption fly?
Covid Traps Impatient Americans in Endless Lines for Everything https://t.co/YjW0tNlvK5

— Bloomberg Australia (@BloombergAU) July 8, 2020
Yet their favorite Donald Trump does not seem in great shape, over the weekend he questioned phase two with China and probably also phase one that never started …
#China: President @realDonaldTrump calls a "two-step agreement" with China difficult, saying "they could have stopped the plague, they did not. The #relations with China were # damaged quite a lot of". https://t.co/aD004IAj4n

– U.S. 2020 elections (@ElezioniUsa) July 10, 2020
Too bad, phase two should have started again in the spring, but Donald said that …
"China has caused serious damage to the United States and the rest of the world."

Commercial agreement phase 2? I have other things on my mind (Il Sole 24 Ore Radiocor Plus) – New York, 10 Jul – "Relations with China are seriously damaged. They could have stopped the epidemic (coronavirus, ed), they could have stopped it, but they didn't stop it. They stopped her from going to the remaining areas of China from Wuhan province. They could have stopped the epidemic, they didn't. " So the President of the United States, Donald Trump, replied to a reporter asking him about a possible phase 2 of the trade agreement with China. "I don't think about it now – he said of phase 2 – honestly, I have other things in mind".
The substance is all here, Trump did not get anything from China, only tariffs, he invented a ridiculous agreement, China never did anything to maintain this agreement, phase 2 died and buried, phase 1 never started.
The reality is that the trade deficit is the same as 4 years ago and that soybean sales are more than 60% below the average of the past 3 years, this deal is really ridiculous!

The hope that the Federal Reserve can save Wall Street is ridiculous, ridiculous are all those who have not yet understood what is happening, continuing to keep their savings on the brink of a volcano.
We are in no hurry, the facts have been proving us right for years, the debt deflation of our polar star, the latest analysis of our Machiavelli speak clearly, the Promised Land is about to be reached, our last big bet.
Anyone wishing to support our trip will receive Machiavelli's analyzes for FREE. To contribute to our trip just click on the BANNER next to the posts on the right side of the page or go to the DONATIONS section…
SIMPLY THANKS!
VN:F [1.9.20_1166]
VN:F [1.9.20_1166]
Source link
https://icebergfinanza.finanza.com/2020/07/13/btp-futura-europa-flop/