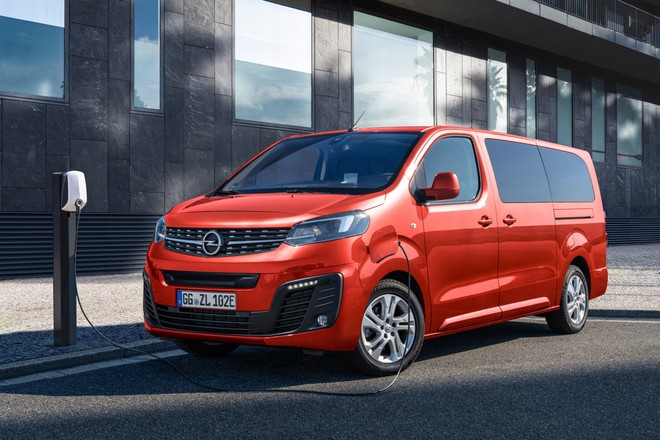 Opel
he announced
a fully electric variant
of his Zafira Life. It deals with
of a multi-space
which offers the possibility to host
up to 9 passengers
, perfect for large families but also for those who offer taxi services.
Opel Zafira-e Life
, this is its exact name, is available in 3 lengths: Small, Medium and Large. The load capacity for the larger model is 4,500 liters. The vehicle can tow trailers with a maximum capacity of 1,000 kg.
Recognizing the electric model from the thermal model is difficult since they are almost identical aesthetically. Among the few differences, the door for charging. Internally, however, there are some typical details of battery cars such as the battery level indicator. Across the infotainment system featuring a 7-inch display different aspects of the vehicle can be managed. The navigation system includes real-time traffic information. Present support for Apple CarPlay and Android Auto.
Thanks to a smartphone app, it will be possible to remotely control the Opel Zafira-e Life. By handing off ADAS, the new model features, for example, semi-adaptive Cruise Control, Lane-keep assist and fatigue warning.
Opel Zafira-e Life has the same powertrain already seen on other similar vehicles of the PSA Group. So a
100 kW electric motor (136 HP)
combined with one
50 or 75 kWh battery
. The first allows autonomy up to 230 km, the second up to 330 km. Data collected with the WLTP cycle. (Our guide here) A vehicle, therefore, that with the larger capacity accumulator is able to guarantee good flexibility of movement. The maximum speed is limited to 130 Km / h.
Speaking of charging, Opel Zafira-e Life offers a single-phase 7.4 kW battery charger as standard, an optional 11 kW three-phase battery charger. In direct current, the car supports power up to 100 kW.
Source link
https://www.hdmotori.it/opel/articoli/n522591/opel-zafira-e-life-2020-dimensioni-autonomia/