Our world has been turned upside down and with it also the movements, from long-range ones to local ones and theoretically more "banal", which in some cases have become more complex especially in large cities. The two wheels will be and are already protagonists thanks also to the
lavish incentives made available
: in addition to the classic or more advanced bicycles, there are obviously electric scooters, a category that has finally been cleared through customs in Italy and favored by the new directives.
The first 2020 model we tested in the past two months is the NineBot Max G30, top model that definitely raises the bar compared to all the competition thanks to a well-made frame and technical solutions that make the difference. I don't want to reveal the highlights right away but its clear large 551 Wh battery is the 10-inch wheels they project it forward, if you eliminate anxiety from autonomy and a little more safety in driving you get a nice mix.
In recent years we have witnessed a real boom in electric scooters, many models (often similar) and low prices, a credible solution for micro mobility that I have not sincerely supported since the beginning. My skepticism is twofold: some of the models in circulation have in my opinion far too many critical issues, so I do not consider them so attractive, and then there is the safety chapter for which I consider the whole category more at risk than bicycles.
We will deal with this latter issue in more detail with an in-depth analysis that will reveal the strengths and weaknesses of the two categories, today we focus on the Max G30 which has many advantages. The first concerns the frame, more robust than the average of consumer scooters and with a wide platform, comfortable even for an adult. To make a difference too the large 10-inch wheels (25,4cm) with tubeless tires, then we abandon the inner tube and – hopefully – all the annoying punctures that we had to face with the Xiaomi M365. There is still no dedicated cushioning system, unfortunately, these wheels still manage to better absorb the small potholes and jolts than many others, but nobody expects miracles.
If you look at this scooter you have to immediately consider one thing, that is its weight: 19.1 kg and 6.6 kg more than its younger brother ES2 (which weighs 12.5 kg). This means that it is more difficult to carry and transport once closed; let's say that for an adult man it is not a drama but for a teenager and a woman it represents a nice limit if you have to lift it from the ground. But this thing also has advantages which, in my opinion, are more decisive: the first concerns its stability while driving, the center of gravity is lower compared to other models with 5-6 kg less weight, the second one sees the integrated power supply under the platform.
We should therefore not bring a bulky charger with us, just a common three-pole cable that can also be borrowed from PCs, appliances and various objects that use it. It should also be said that autonomy is certainly not a problem and that you can safely do without the cable, having an eye on the charge level. The door is then well protected by a spring door and is located on the right side.
SUPER AUTONOMY AND … WHAT POWER!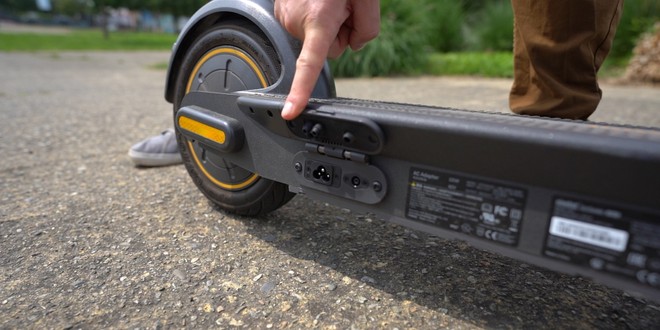 The last good reason why I'm "happy" with the important weight is the battery, a 551 Wh (15,300mAh) capable of powering the
350 W motor
(on the rear wheel) which offers a strong starting point.
Acceleration is important
, more than the maximum speed that is so limited for everyone at 25 km / h and this Max G30 manages to beat most of the competition, certainly the various Xiaomi M365 / Pro and Nilox Doc Twelve that we have in the editorial staff.
We put it to the test stopwatch in hand: to go from 0 to 25 km / h on average it only takes 7 seconds, of course also counting on the initial push to be given with the foot. The braking distance is instead of 7 meters when traveling at maximum speed and you must stop as soon as possible, therefore using the drum brake at maximum.
Ninebot declares up to 65 km of autonomy, more than anyone else and close to my direct experience, although it was impossible to turn consecutively for a similar journey. According to my calculations the actual duration with a person of 74 kg driving is confirmed around 60 km (made several times), but we know that this value can change a lot based on some factors: precisely the weight of the driver, any height differences and external temperature. In Milan the climbs are very few but I was happily surprised by the attitude shown in facing some "more difficult" bridge, with maximum speed that drops very little to about 22 km / h (at least according to the integrated digital speedometer). Sensation that also confirmed Niccolò from Cagliari, where ascents and descents are much more frequent. Charging is normal, therefore it takes about 6 hours to go from 0 to 100% but about 15% is enough to have about 10 km available.
Driving is very pleasant and the feeling with the scooter is quickly found, compared to others I really appreciated the better stability on the road obtained thanks to the union of the various elements already described. Precise in changes of direction but the limits of a real shock absorber remain, on the road you must always keep your eyes firmly on the ground because a real hole represents a serious problem.
Pleasant entrance to the front drum brake, capable of giving a useful answer in case of emergency and sudden braking, a plus that adds to the good electronic and regenerative brake (rear) which alone slows down the performance as soon as you leave the accelerator. Certainly effective but more complex if you think about maintenance, with a disc brake it would certainly have been easier to get there at the right time.
To keep everything under control there is a color LED display above the steering showing speed, residual charge (only with 4 dashes), mode, maintenance and bluetooth connection, too bad it is protected by a plastic and it is scratched rather quickly. Fairly visible even during the day but in direct sunlight the numbers and letters are not very distinguished, however there is the application that makes everything a little smarter.
Report one powerful front light and very useful for when using the scooter in low light conditions, but be careful because it is still a small LED that cannot be compared to that of a scooter but a bicycle. There is also a rear light that warns those who precede us of our presence and can also be set intermittently via the app, it is located in the mudguard that has been well anchored to the rest of the chassis and is therefore very firm.
As for all alternative means, the digital experience completes that on the road and makes it even more pleasant, the same happens on this Max G30 through the official Segway-Ninebot application: dashboard with residual autonomy and three icons for walking mode braking energy recovery level (three options available, I use "strong") e
the "cruise control"
. Activating the latter takes just a few seconds of constant speed to activate and no longer need the accelerator, then just a light touch on the lever to deactivate it. On long distances it is a nice convenience, I use it continuously.
The settings give access to software updates, maximum speed (settable only for limited mode), basic info and details on the battery status, therefore remaining energy, power, temperature and much more. You can also customize the rear light and choose, for example, to leave it always on (things I do).
Maps are missing, is not a drama because while driving you should not keep an eye on the road, but there are several accessories that allow you to anchor your smartphone and have everything in an app would be useful. Of course, nothing prevents us from relying on Maps, Waze or others.
CONCLUSIONS AND PRICE (WITH INCENTIVE)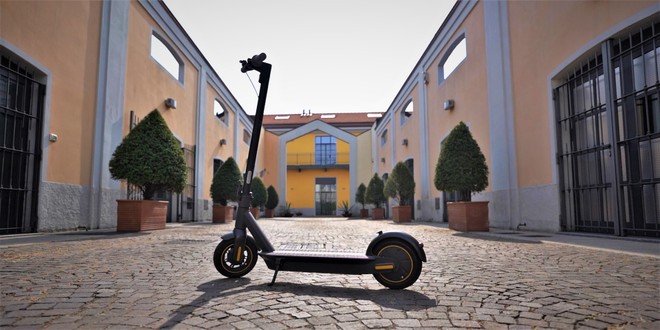 Many advantages and few defects
, the Ninebot Max G30 is one of the best consumer electric scooters available in our country, especially now that the government has made available incentives for the whole category. First of all I would have told you that it is an excellent model, advisable but expensive, now everything is downsized by making the right accounts, but there is a detail to underline: Ninebot, like others, learned of the bonus has removed every discount so that it you buy at full price, that is 799 €. It must also be said that
stocks are immediately exhausted and to date, May 29, the Max G30 is almost impossible to find
, both online and on physical stores.
No drama, thanks to government aid it is possible to amortize expenditure by 60%, on balance means saving € 479.4 e take it home with only 319.6 euros. An unprecedented price for such a product that could convince many, also because it is not a toy and we are the first to advise against electric scooters that are too cheap and unreliable. However, it must be remembered that to take advantage of the super discount, you will need the invoice to be presented then via SPID on the official website of the ministry, all the details can be found in our details below.
VIDEO
Source link
https://www.hdmotori.it/tecnologia/recensioni/n520388/ninebot-max-g30-prova-autonomia-prezzo/