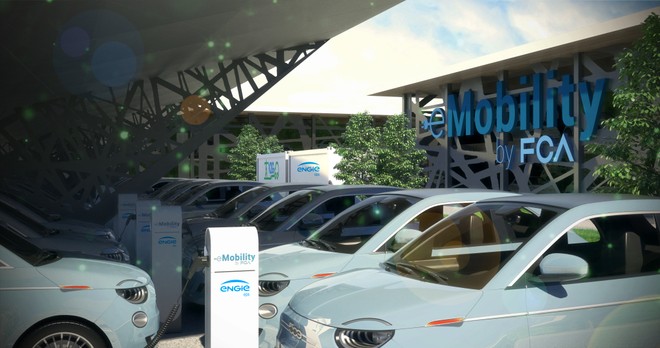 FCA has announced that it has started work which will allow experimentation Vehicle-to-Grid (V2G) technology together with ENGIE at Mirafiori plant. This is the first step of the project announced in September together with Terna to start testing the interaction of electric cars with the network thanks to an "intelligent" charging infrastructure.
THE PROJECT
The goal is to do interacting FCA's electric vehicles with the electricity grid bidirectionally. Cars can not only recharge but also transfer electricity to the grid to stabilize it when not in use. High-capacity vehicle batteries can make an important contribution to create a more sustainable electrical system. For the owners of these vehicles also the opportunity to optimize the operating costs of the cars by releasing the energy of the batteries.
In the future it will be increasingly important to find solutions to balance the electricity grid both because of the increase in the presence of electric cars and for theuse of renewable sources whose energy production is not programmable. The diffusion of intelligent charging solutions such as that which will be experimented within this project will be very important to balance demand and energy production in real time.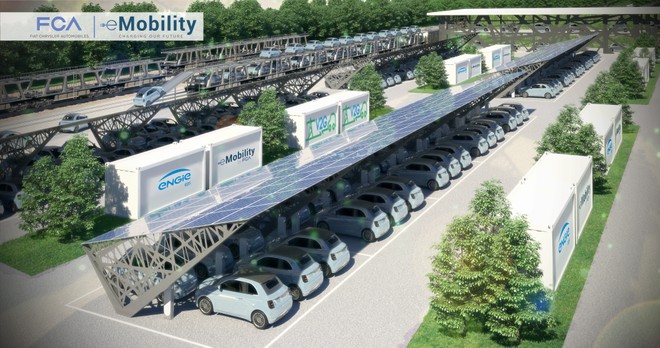 The infrastructure that will allow testing to continue is under construction. The works concern an area of ​​about 3 thousand square meters with 450 meters of trenches already built and ready to host over 10 kilometers of cables, necessary to interconnect the 64-point electricity grid Bi-directional fast charging with a power up to 50 kW. (Here the difference between kW and kWh)
Centralized infrastructure and advanced control system are signed by ENGIE. Initially 32 V2G columns will be built to connect 64 electric vehicles. The inauguration is expected in July. By the end of 2021, FCA plans to expand this facility in order to get to interconnect up to 700 battery-powered vehicles. Upon completion of the work of what is defined as the world's largest V2G plant, the entire project will be able to provide up to 25 MW of capacity. If to this are added the other Mirafiori energy production devices such as the 5 Mw photovoltaic system, FCA is preparing to create a real virtual power plant capable of feeding an equivalent of 8,500 homes.
Source link
https://www.hdmotori.it/fca/articoli/n521261/fca-vehicle-to-grid-ricarica-auto-elettrica-v2g/