Turin, 27 May 2020 – The Piedmontese governor
Alberto Cirio
pull the brake on indiscriminate exits and – fearing wild nightlife in the
weekend of June 2nd
– is thinking of imposing the
mask requirement even outdoors
from Friday to Tuesday next in all the inhabited centers of Piedmont.
The hypothesis is being examined by the Region and prefectures to avoid the
contagion risk
, after the gatherings that occurred in recent days, for example in Turin the occasion of the performance of the
tricolor arrows
.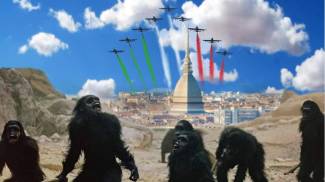 Cirio himself announced it live on Centocittà on Radio Rai Uno: "Our ordinance already provides for the obligation to wear an outdoor mask where the safety distance cannot be guaranteed – he explained – unfortunately what we saw in our institutional monitoring is that people tend not to wear it although there are places of potential gathering. This is why we are thinking with the prefectures to introduce an ordinance that applies to the long bridge from Friday to Tuesday, obliging to wear a mask in all inhabited areas, even outdoors ".




As for the displacements between regionsCirio says he is optimistic: "To date, our daily monitoring on the progress of the virus does not indicate any particular critical issues and therefore we await confident that June 3 may be the date of the reopening of the borders. Of course – he specifies – always with a watchful eye on the monitoring data ".
Just yesterday, President Cirio signed the ordinance introducing the obligation to use the mask in all areas pertaining to the shopping centers (e.g. parking lots and play areas). He also dismissed the closing of the exercises catering and food delivery maximum at one o'clock at night, leaving to the mayors the possibility of introducing more restrictions or particular methods of administration (as done by the Municipality of Turin) "if they find it necessary to avoid gatherings".
Children, school and summer camps
"Tell yourself clearly when she can return to school. A real school. The problem is not that of the last day of the year or of the party – says Cirio, always on the air – if they find it necessary to avoid gatherings". And he remembers: "Piedmont was the first region to send children back not to school, but in a para-didactic activity. An experiment that was held naturally with all the guarantees of safety". "Furthermore – he continues – this week we have sent the guidelines to all the Municipalities, speakers and associations, because our desire is to anticipate as much Summer as possible for young people".




Slow tourism, the Piedmontese recipe
Focus on slow and sustainable tourism, enhancing places such as the Piedmontese Via Francigena and visits to castles and historic houses, with new products and services capable of capturing the attention of the tourist who will be looking for safety and well-being, will prefer nearby places, he will move with his own means and choose outdoor entertainment formulas, in uncrowded places. This is the strategy on which Turismo Torino e Provincia focuses and, during the lockdown period, carried out the research with the University "What could be the guidelines for a recovery in the tourism sector after the Covid19 emergency?".
Source link
https://www.quotidiano.net/cronaca/coronavirus-mascherine-piemonte-1.5169630