"You have to expect great things from yourself before you can do them," according to Michael Jordan High demands are the basis for success and as befits one who dreams of touching the summit as well. Yusufa Mokoku Believes in the same mantra. While most footballers his age are just hoping to make their way to the senior team one day, the striker's plans are 'a little' more ambitious and already at the age of 14 he provided an unprecedented statement: "I want to win with Dortmund in the Champions League and also pick up the Golden Ball."
So what exactly makes Mokoku such a special natural phenomenon that his dreams do not sound absurd for a moment? Why did Nike sign him on a € 10 million contract when he was just 14 years old? And how is it that one of the scariest pioneers in the world, Arling Holland was shocked when he first saw him and said: 'I have never seen a 15-year-old at this level. Yusufa is a much better player than I was at his age. ' First, a quick look at Mokoko's statistics page over the past three years will soon answer the same questions – 141 goals and 26 assists in 88 appearances for Dortmund's teams up to the age of 17 and 19 in which he made his debut at 12 and 14 respectively.
While the Mokoko phenomenon is just beginning to gain full recognition in the mainstream, with the rising star making his debut soon after he turns 16, the Schwarzgelben have known for a long time that they have won the lottery and are therefore taking care to keep him in silk gloves. "The right thing is not to develop too high expectations of Yosufa, there is no pressure on him," he said Michael Zurk, The professional manager of the club. Youth Coordinator, Lars Riken, Who learned firsthand how excessive demands too early can disrupt his career, added: 'Yusufa is an extraordinary talent, exposed to hype from such a young age. We do not want to make the burden of expectation greater than it already is. '
Despite the club's caressing attitude it seems that stress is not a factor at all for the young Mokoku. In every training, game and interview he cannot miss the huge smile on his face when the boy is just enjoying every moment. For five months now, Mokoko has been consistently impressive in the senior team's training and now is the time to flourish in the major leagues – he will probably become the youngest player in the history of the Bundesliga and the Champions League. Mokoku's meteoric rise also set a precedent in German football as the association agreed to Dortmund's request in April and the minimum age to join the league was reduced by six months.
Erling Håland on Youssoufa Moukoko:

🗣 "Moukoko is much better than I was at his age. I have never seen such a good 15-year-old in my life." pic.twitter.com/DKWJVkicid

— Football Tweet (@Football__Tweet) November 13, 2020
To get to know the prodigy better one has to go back to 2004. While Samuel Eto'o broke into the Barcelona uniform and became the greatest footballer in Cameroon's history, Yusufa went on the world air when his mother was only 14 years old. As a result, he spent his childhood with his grandfather when he dreamed of following in the footsteps of Eto'o, who put the West African country on the map.
Luckily for Mokoko, an opportunity arose for him when he was ten and he moved to live with his father in Hamburg because he holds German citizenship. Mokoko could not have dreamed of a better acclimatization in the new country and after two wonderful years at St. Pauli, Dortmund is the one to take the plunge. It should be noted that the diamond also managed to obtain German citizenship and this year he made his national team debut until the age of 19.
Mokoku's magic moments in the young teams have led to comparisons to many players including Leo Messi and not just because they both have an exceptional left foot. When looking at the numbers of the two one can see a certain resemblance when the Flea scored an average of 1.2 goals per game in teams up to the ages of 16 and 19 while Mokoko averaged 1.6 goals per game in teams up to the ages of 17 and 19.
Despite this, Mokoko knows very well that he has not done anything in his career and his road to the top is still long and winding. As befits a boy who until recently watched his idols on screen, he still maintains allegiance to them and Mokoko could not hide his excitement when Barcelona and Messi sent him birthday presents a year ago. Many thought the Catalans were trying to temper, as they say in the NBA, but Nike was the one responsible for the viral plot, which might help Barcelona one day.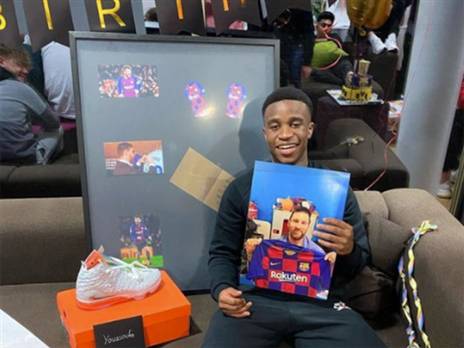 Mokoko was moved by Messi's gift
Now, we will try to analyze his abilities on the field, which make him a constant danger for any defense in the world. Already at a young age, Mokoko has a movement without a ball, which is reminiscent of the best in the world, and if you add the ability to finish and calm in front of the goal, you will get a well-oiled attacking machine – 1.77 goals in 90 minutes, scoring with every third kick. Since the German is not the greatest player physically – 1.79 meters, he compensates for it in terms of agility and speed and you will connect 7.36 balls per game and you will get a first-class situation creator.
Despite the many compliments, there are two serious flaws in Mokoku's game, both his head and his right foot. For the talent to reach the world top he will have to upgrade himself and become a more complete player but if we look at the successes of the club in past years one can be very optimistic about his future.
In conclusion, it can be said that all the findings suggest that Mokoko may become a historical player. The boy has all the tools for success in the club, which is a dream for any rising talent. The fact that Dortmund are not afraid to throw teenagers into the deep water will allow him to develop quickly and maybe one day his prophecy will come true and he will prove to the cynics that it is not a shame to dream, because dreams create reality.
Happy 16th birthday to the ultimate wonderkid, Youssoufa Moukoko:

◎ 88 BVB youth games
◉ 141 goals scored (!!!)

And now he can play in the Bundesliga. 🤩 pic.twitter.com/cTXDpp5Q0q

— Squawka Football (@Squawka) November 20, 2020