A day after the announcement of Jessewa's suspension until after the upcoming game against Hapoel Haifa, and after receiving a significant fine, at least according to the club, more details are revealed about the Portuguese's future.
According to sources close to the actor, it was decided not to release him immediately – but it was further stated that another disciplinary offense related to verbal or physical violence would result in his immediate release. Jesse has yet to apologize to Amit Bitton before returning to training. Although the team did not disclose the amount of the fine the Portuguese received, some of the players were told that the fine would be around 2,000 euros.
Today (Saturday), the team will return to practice after the defeat to Bayer Leverkusen. Miguel Vitor will continue to miss the upcoming games and will not even leave for the Czech Republic on Wednesday ahead of the game against Slavia Prague.
If Ramzi Spori will hold a full training session, he may start with two Teddys against Hapoel Haifa. Jonathan his thumb is suffering from a groin strain and will be out for several weeks. Anthony Varane may get the credit at 11, while Elton Acultasa is expected to be eligible.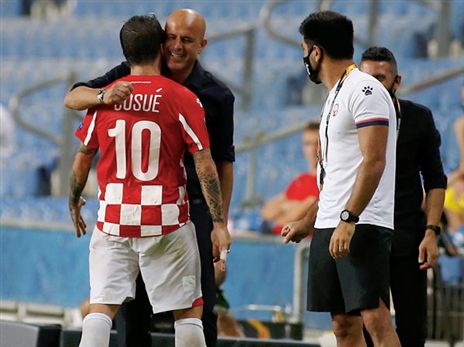 Abacus and Joshua. Will they have to break up? (Alan Shiver)