Photo: Aviv Hofi, PR, Facebook / El Al, Anya Buchman
The race to buy Israir is heating up. Five main proposals are currently on the table for the transfer of control of the airline – Moti Ben Moshe, Arieh Prindson and Amnon Sela in a joint proposal, Tami Mozes Borovich and the Nakash brothers.
Ben Moshe, the owner of Dor Alon, is offering a total of NIS 107 million, while for the acquisition of full ownership an amount of NIS 90 million was offered and in addition Dor Alon offered that as part of the transaction, Israir will waive IDB's debt to it in the amount of 17 a million shekels.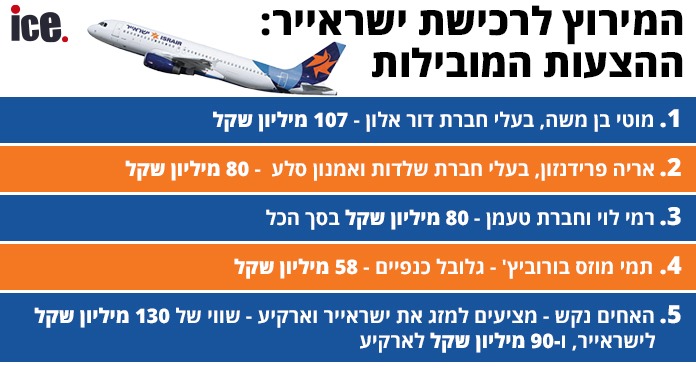 Friedenson, the owners of Sheladim and Yahad Amnon Sela, offer a total of NIS 80 million, with Rami Levy and Ta'aman making a similar offer, with a total of NIS 80 million, of which NIS 70 million in cash and another 8.9 million BG shares with a total value of Another NIS 10 million.
Tami Mozes Borovich of Global Wings also submitted a bid in the total amount of NIS 58 million, of which NIS 31.6 million will be transferred in cash for control and the balance of Global's bonds to be repaid in 2025.
The interesting offer comes from the Nakash brothers, who are proposing to merge Israir and Arkia into a deal with a total value of NIS 130 million for Israir and NIS 90 million for Arkia. According to the proposed outline, Israir and Arkia will be connected to a target company (stock exchange skeleton) and the IDB trustee will be allotted shares of the stock exchange skeleton worth NIS 130 million and Arkia shareholders will be allotted shares based on valuation and in any case at least NIS 90 million .
Comments on the article(0):
Your response has been received and will be published subject to system policies.
Thanks.

For a new response
Your response was not sent due to a communication problem, please try again.

Return to comment