KPN is accelerating the pace of fiber optic construction. The Dutch telecom company announced this on Tuesday during its annual strategy day. According to CEO Joost Farwerck, KPN will connect some 500,000 homes per year to an internet connection via fiber from next year. There were 300,000 this year.
Fiberglass – in technical terms fiber to the home (FTTH) – Provides uploading and downloading at the same speed, with speeds of 1 gigabit per second. In contrast to the coaxial cable from, for example, Ziggo, the last part of the connection, from the street cupboard to the meter cupboard, is not shared with other households. Ziggo also offers speeds of 1 gigabit with new modems and has thus gained a lot of ground on KPN's slower VDSL, via the copper network.
The advance of Ziggo has prompted KPN to make extra haste with fiber optics, which will replace the more than 100-year-old copper network. Meanwhile, 4,000 to 5,000 homes are 'vitrified' per week. From next year that will be 10,000 to 12,000 homes per week, Farwerck said.
Big cities
Unlike before, KPN is installing fiber optic cable without subscribers having first registered. Ultimately, 50 to 60 percent actually become customers, says KPN. The installation of fiber optics in cities with many high-rise buildings is relatively fast and cheaper than installation in rural areas. The costs for the company are 750 to 900 euros per connection.
KPN (turnover in 2019: 5.5 billion euros) is investing an additional 450 to 500 million euros in the accelerated fiber-optic construction, which must take place in the major cities in particular. There, competitor Ziggo is gaining ground on KPN.
The money is partly released by reducing the company's annual costs by a quarter of a billion euros.
Also read interview with Joost Farwerck (KPN) 'It is my pitfall to dive into everything myself':

Farwerck cannot say how many jobs will be lost as a result. "Simplification [schrappen van merken] and digitization lead to fewer jobs, "said the CEO. "That is a consequence, not a strategic goal." KPN now has 10,000 permanent employees and 2,500 who are hired.
KPN now has 2.7 million fiber optic connections, about 33 percent of households. By 2023, half of the Netherlands must be glazed by KPN, by 2025 it aims at 65 percent and ultimately 80 percent. KPN is the largest fiber optic provider in the Netherlands, but not the only one. In places where other providers already have fiber, KPN wants to avoid a double network. "Usually this is done in consultation," says Farwerck. But the practice turns out to be more difficult, such as in The Hague. A second fiber optic network is being installed there in the Regentessekwartier because KPN did not reach an agreement with Primevest Capital, the investor that is installing fiber optic for T-Mobile in the Netherlands. T-Mobile protested, but lost the lawsuit last month.
Wifi is often the bottleneck
The need for adequate broadband connections has grown due to the corona crisis. Bottleneck is not always the speed to the meter cupboard. The Wi-Fi connection often falls short indoors. That is why providers such as Ziggo ('Smart WiFi') and KPN ('Super WiFi') place a strong emphasis on better coverage in the home.
Corona has greatly increased the demand for improved places to work wirelessly. "Our Wi-Fi gear sold out three times," said Farwerck.
Due to cost considerations, KPN slowed down the installation of fiber optics in 2018 to 60,000 homes per year (only new construction). Because the competing cable internet turned out to be faster in many places than KPN's internet via copper (VDSL), the company has adjusted its strategy.
Incidentally, the upgrade from copper to VDSL was not a waste of money, says Farwerck, but it was necessary to bridge the period leading up to the construction of the fiber optic network. "We cannot glaze the Netherlands for 80 percent in one go."
Swedish interest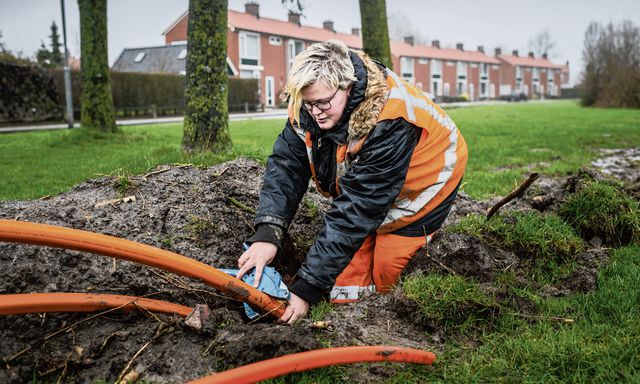 Also read: The seductive power of a Dutch fiber optic network

The KPN boss did not want to comment on possible interest from the Swedish investor EQT on Tuesday. According to financial news agency Bloomberg, takeover talks are already being held.
Farwerck: "I will not respond to rumors. We are listed on the stock exchange, so if we have something to say, we do it ourselves. KPN is a healthy company with little debt and a healthy balance sheet, and we are investing heavily in the future. "
EQT already owns Delta, the internet provider in Zeeland and Westland, which is also installing fiber optics in addition to the cable network. It also has interests in German and Spanish fiber optic networks.
KPN's 'profitable turnover' will increase in 2021, Farwerck expects. He is referring to the consumer division; together with the wholesale branch (network rental) and KPN's products for small business customers, this accounts for three-quarters of the turnover and 90 percent of the profit. The decline in the business market will 'stabilize'. KPN dares to hope for revenue growth again from 2022.
A version of this article also appeared in nrc.next on November 25, 2020