Once again losing to the opposing coach

This is the third column in a row, starting with the away win against Himki in Moscow, in which Yannis Sapropoulos' game management receives separate attention. And not particularly positive. True, Maccabi Tel Aviv could have won this game. As it could have won most of the close games it has lost so far, including against CSKA Moscow, including against Bayern Munich, including against Olympiacos Piraeus. But it has lost. Again.
And true, games are not necessarily decisive due to a coach's decisions, because in the end there are players who score, miss or lose. And the Yellows were one crazy three wickets by Wilbkin from stealing this game. But the job of a winning coach is to be one step ahead of the opposing coach. Or at least respond quickly enough to the other party's decisions.
Yannis Sapropoulos, who has really proven his ability to specialize in this niche last season, continues to lag behind his opponents – whether these are Cortinaitis, Trinkieri, Bratzukas, Kokushkov or others.
And one can talk about point-and-click micro-moves in which Coach Sapropoulos missed, as we have done in previous times. This time, if you will, you can refer to Elijah Bryant's critical ball loss towards the end of the game against Andulo.
With 2 points behind, with about 24 seconds on the clock, Maccabi took a timeout. She planned things. Made various decisions: for example, the logical and reasonable decision to put the ball under her basket (and earn a full seconds clock) instead of advancing to the opponent's half of the field. For example, the decision to put the ball in Tyler Dorsey.
For example, the decision to put the ball in the hands of Bryant, who receives a suitable block for that purpose is a laser stronghold. For example, the decision that neither of the two coordinators of the Israeli champion in the current squad will be in the half court where the ball is.
Not Wilbkin, who was pushed to the far side to wait his turn or start a possible exercise from there and not Chris Jones, who remained on the bench. And really, that everything is fine and makes sense. Certainly in a game where Bryant is playing perhaps the best offensive basketball of his career, because just as Sapropoulos went to the drill on Dorsey at the end of the game against Olympiacos, because he realized he was the hot man – so he thought to do this time with the guard who scored 22 points in excellent percent.
The only problem is that Sapropoulos did not anticipate Atman's reaction. And did not think he would get a double guard on the head. Maccabi was surprised, and its coach was surprised. Because the last thing you want, under pressure, is for Bryant to make decisions while under defensive pressure. Or Dorsey.
Indeed, Dorsey passed to Bryant and ran forward, without looking at the ball. Indeed, Blazer blocked and fled because he was not told otherwise. Indeed, Bryant was quick to get rid of the ball, under pressure, because he is not good at these things. Indeed, Sapropolus was surprised. Indeed, another important game went.
via GIPHY
But you know what? The problem is not this decision. The problem is broader. Maccabi Tel Aviv continues to raise vehicles that are difficult to understand. Like the top five of Jones, Dorsey, Sandy Cohen, Bender and Žižić together, right after the (critical) injury of Othello Hunter early in the fourth quarter.
In a game like this, to which the opponent stands even when it lacks its two best players (Larkin and Dunston) and even when its rotation is short and rather crowded, the advantage of the Yellows should come from smart bench management. Smart management that we do not meet recently in Maccabi Tel Aviv games.
What do you want to do in the end?

Along with the critique of Sapropolus, some assumptions need to be made here. For example the assumption that his ball carriers proved to him, again, that the ball does not sit firmly in their hands. Because if you count only those who decide in yellow, namely Wilbkin, Dorsey, Jones and Bryant, then only those alone lost 12 balls last night. Including particularly significant in the fourth quarter. For example here, when Jones fails to hold his guard (Mitzic) on his back properly, and prevent the kidnapping.


via GIPHY

For example here, when problematic spacing in the orderly offensive play, in the procedure, causes Wilbkin to hand the ball over to the wrong hands, on the way to a big three on the other side.


via GIPHY

And, alongside the previous assumption, it should also be said that at least at the end of the game, the Greek coach tried to play with a better defensive five. That is, without the integration of the Split brothers together. And snatched significant points precisely on the better (better) legs of Blazer. Mainly because the decision makers on the other side can be trusted more. Mainly because the opponent's attacking game, at the end of the game, makes more sense. Here, in the procedure, Mitzic attacks Zizic's legs and enters the ring. Blazer, who keeps marking, watches with concern. Simon, saved by a laser that keeps watching, comes to the rescue and punishes.


via GIPHY

Here, Boboa (what an actor, Ya Varadi) attacks Blazer in a pick and roll. Unable to hold or contain it. And not really getting help from Wilbkin. From there the road is short to the entrance to the paint and delivery to the excellent place.


via GIPHY

And here, to end the sequel, another Boboa pick and roll. And again on Wilbkin and Blazer. Zizić, learning from experience, stayed close to Place. And Boboa takes Oz Laser for a walk.

via GIPHY

And now that we've done with the discounts, let's have a blast. The decision-making of our armored representative in the second best league in the world, in significant moments of games, is not a bad example of anarchy. A man right in his own eyes will do. Including Sandy Priests of the World. talent? There is plenty, and it is enough in quite a few cases. Order and discipline? less.
Promises need to be kept?
Three Maccabi Tel Aviv players have started in all seven of their Euroleague games this season. Wilbkin, Kaloyaru and Žižić. Wilbkin it's clear. Caluiaro? Although one who has his place on the bench, one can certainly understand the decision to start with him regularly given the lack of players on his position.
And Žižić? Ante Žižić is a very good basketball player. Has very impressive qualities. And according to various reports from foreign sources last summer, one who received a yellow promise to go up in her top five. Personally, I have no idea if there is any truth in the matter.
Indeed, the facts speak for themselves. Žižić starts, and the opposing teams attack his problematic legs immediately. Žižić begins, and there is no serious or consistent attempt to cover up his defensive difficulties. Zizić starts, and his defensive shortcomings are not covered (at least yesterday) by taking advantage of his offensive advantages on the other side, where they try to score. Zizic starts, and to make matters worse, he is brought up together with Dragan Bender. In one word, it's a mistake. At trial: That's not the point. It's not serious. It does not work.
But why expand when it can be demonstrated? I want to show you the first five offensive moves of Andulo Zero last night. Will you be able to find, dear surfers, the common denominator between all the moves? Haida, beginners. First move of Andulo Zero. Ante Žižić receives, after a defensive substitution, Mitzić. And even though he tries to direct it to the left, properly, Zizić does not get defensive help from anyone. Just leave it in front of Mitch. And hope for the best. And in this case, it only ends in the offense of the great Croatian.
via GIPHY
further. After a defensive exchange, Mitzic sees Bender in front of him here. And say it's nice, but it's better Zizic. And one more block later, gets Zizic in the defensive substitution. This time Maccabi calls for his help, when Wilbkin abandons the player he is in charge of (Gazi) and comes to help – which leads to two dedications and one trick from the corner.

via GIPHY
Next. Remember Mitchitz? So even in this course he makes a decision. And also in this course he wants to involve Žižić's legs in the course of Pick & Roll. And even during this, which takes place in the first minute of the game, he punishes the Yellows.

via GIPHY
Continue. You will not believe what is happening now, because this time there is no talk of a pick and roll with Zizic. This time, Simon gets the ball and sees the bender in front of him. And Žižić is also watching the move, not noticing that Tibor Place is meanwhile slipping away from him in the direction of line three. And until Zizic responds and moves, Place knocks him three. And all this in the first two minutes of the game, yes?

via GIPHY
Last for now. Kronislav Simon with the ball. And in front of him, you will not believe, there is Žižić (after spare). Simon goes for a pick-and-roll move with Mitchic, which leads to a glacier between Bryant and Žižić. Which leads to a light walk of Mitchic towards the ring. SAD!

via GIPHY
Five moves. In about three and a half minutes. This is unlikely on any scale. Maccabi Tel Aviv is not supposed to start games with a pit. And the pit, this time, ended when she was 18:12 behind, from the moment Hunter replaced and entered the chin position. And the problem is not necessarily just in the strong Croatian chin. Both because he really wants to, and also because he is good at basketball.
Because even in Andulo Zero, a tall player with serious defensive problems opened last night – Tibor Place. And for his defensive weaknesses he Haifa with an excellent offensive game (20 points, which came from 14 shots from the field). And Žižić? How many times has Maccabi Tel Aviv tried to go for back moves to Zizic's basket / lock the player guarding him in the ring area?
The answer is that very little and too little. So if you do not help the great defensive man on the one hand, when assigned tasks that are too difficult for him to fulfill, and on the other hand do not take advantage of his good things on offense, then there is not too much to do with the man. Certainly not at the beginning of games.
Stop. You are doing him an injustice

If the Euroleague decides to select this year, alongside the monthly MVP, also the LVP, i.e. the least effective (or helpful) player, the title will most likely go to Dragan Bender. At least for now. The degree of contribution of this talented actor, without any cynicism, who so wants and tries, and here too without any cynicism, is significant – and negative. And left only the plus-minus index, which next to it was recorded minus 20 this time in 20 minutes of play (meaning that Maccabi Tel Aviv was defeated by twenty points, in the twenty minutes that this particular brother wandered to Split on the field), because this index is consistent and repetitive.
Just leave and that's it. In his current mental state, Dragon Bender should not be on the field. And it's doubtful if he even wants to be on the field. And an even greater doubt, when he wins those significant minutes, if he even wants to be handed the ball. Because Bender, whose rumors about his various mental problems hovered in the air as early as Saturday as an NBA player who failed to reach his full potential and live up to the hopes that were pinned on him, is poor and lost. And the decision to throw him into the focus of trauma, time and time again, does not really improve his condition.
Three points to finish – and they all refer to the staff that exists (and does not exist):
1. Players who change on defense – Even last season and excellent, the Yellows' defense relied less on coordination and sophistication, and more on aggressive energy players, who even if wrong – keep moving and blowing. Players like Tariq Black and Quincy Acey. Energy players like Danny Abdia and John Dibertolomeo. When he was re-fought the current roster, he may have thought that he thought the same defensive results could be achieved, with the same defensive thoughts, but with much less good or aggressive defensive players. And made a big mistake.
2. High missing – A team that respects itself at this level holds three players who can enter position 5. Including Andulo, for example, who played yesterday with only one high (Place) out of the three or four options available (Dunston, Chanel, Singleton). Last season, Maccabi Tel Aviv also had one, and his name is not in Israel, Amara Studmeier. This year there is no. And if Hunter snatches Bobama and is forced to rest, he is left with no options.
3. The coordinator – I have written quite a bit here about Chris Jones. Including on his resume or data, which give no indication that he belongs at this stage to these levels. But it does not matter, because Chris Jones is here. And you know what? His numbers so far, the number of minutes he plays, are not bad at all.
The thing is, if you want the man, that is, the coordinator, to play, you should perhaps allow him to play a coordinator's basketball. And there is not really such an option in Maccabi Tel Aviv's attacking game. So Jones plays and runs moves like he's Dorsey, or Wilbkin, or Bryant. And even produces points here and there. The thing is, he's not Dorsey, Wilbkin, or Bryant.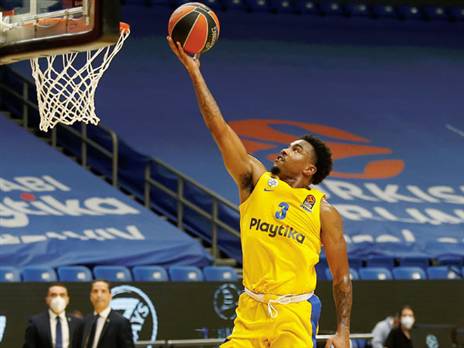 Will have difficulty concentrating over time. Jones (Photo: Alan Schieber)