Eden Hazard has been injured at Real Madrid. Again. Trainer Zinedine Zidane said after the game that it would only be a kick on the knee, but in Spain they are now deeply concerned about the most expensive transfer ever from the Royal. "The parallel with Gareth Bale is starting to become clearer."
READ ALSO. Sour evening for Real Madrid Red Devils: Courtois in error, Hazard injured, Alaves wins 1-2
"At Real Madrid there is an elephant in the room that nobody wants to talk about: the body of Eden Hazard," writes the Spanish sports newspaper AS Sunday. According to them, it is already the eighth injury that the captain of the Red Devils has suffered since he pulled from Chelsea to Real Madrid for one and a half years ago. "The parallel with Gareth Bale is starting to become clearer, with poor performance and a porcelain physique," ​​he said.
According to AS, Hazard's problem lies in his operated right ankle. Since then, the Belgian would put his foot down differently, which would lead to new muscle problems. But trainer Zinedine Zidane denied after the match that this time it would be a new muscle problem. "He got kicked in the knee," said the Real Madrid coach on Saturday after the 1-2 defeat against Alaves. "I think and hope it is just a slap on the knee. That's what he told us, it's nothing muscular or anything. "
National coach Roberto Martinez will also be concerned
On Sunday, Hazard would undergo a scan to determine the severity of the injury. Two important weeks are coming up for Los Galacticos, with the last two matches of the Champions League group stage and league matches against Sevilla and the derby against city rival Atlético. In the Spanish press they already see a scenario looming where Real would have to do without Hazard.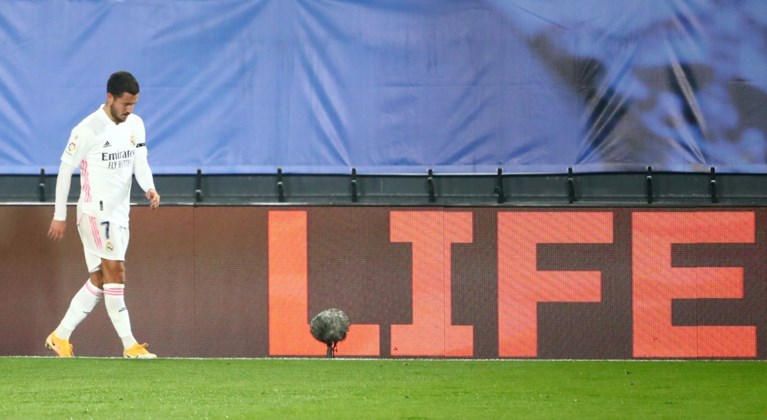 AS calculated that he only played 31% of the minutes since his transfer to Real in the summer of 2019. Hazard also had not played for the Red Devils for over a year, because he had to forfeit the past three international breaks. He will turn thirty in January. Will he ever return to his old level? The Red Devils and national coach Roberto Martinez will certainly hope so, because in 2021 they could use their captain well for the postponed European Championship and the Final Four of the Nations League.