Manager Atalay Mutlu – raised in Zutphen, living in Arnhem – called Diego Maradona in August. The football god who passed away today. In 2017 Mutlu spent weeks with Pluis in Mierlo in Brabant. Where Diego was on training camp as a trainer with his FC Fujairah. "He was still haggling, hiding your cutlery and he was crazy about Heineken."
International agent Mutlu takes a deep breath. "Pfff", his sigh after that has almost the depth of an echo well.
"This is a bit of a shitty man …" "A few minutes we know in the Netherlands that Diego Armando Maradona is dead. "A piece in you as a football animal, a piece of absolute football beauty, is now dying too. The greatest football player who ever existed is no more. "
This summer, the resident of Zutphen still had a lot of contact with Maradona. "A Turkish club from the top division wanted him as a trainer. They asked me, because I knew Diego well, to pulse him. "
I do not feel well
Diego thought about it. "I talked to his assistants about peripheral matters. He called himself for absolute decisions. He declined nicely for the Turkish job. "I don't feel well," he said. His health was bad. "I hope that I am well soon and that I will take up this challenge next year," Diego continued. The last call with him was in August. "
Maradona, the miracle in Mierlo
2017 was a memorable year for Mutlu. Maradona trained FC Fujairah, a club from the United Arab Emirates. "They wanted to go to the Netherlands on a training camp. I arranged the accommodation and scheduled practice matches. In short: I arranged everything Diego wanted. This is how a bond was formed. "
Amateur club SV Twello practiced that year, as one of the amateur clubs, against Maradona's team in Mierlo. "I granted that club that, I knew the trainer of Twello."
The press was not welcome, Diego did not want any prying eyes. The training field, which was next to a hotel, was hermetically sealed. A reporter from the Stentor was then smuggled in as a substitute for Twello in a players bus for a report. "So you see. Everyone gave each other those weeks to get a glimpse of Diego. "
Maradona could be cranky. Didn't want to be in the picture with everyone. "That trait originated in that crazy time in Italy, where it was really attacked every day. When people jump on him, insist … He was very arrogant. But after the game, he took a picture with all the players. He took his time. "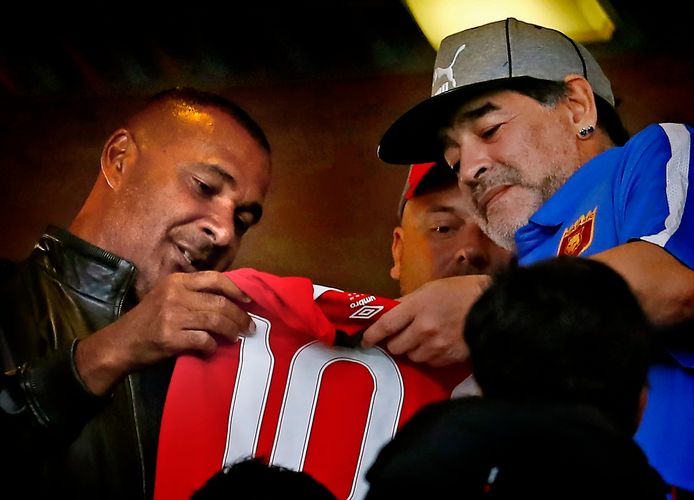 Dancing and drinking
After eight at the training camp it became ball. "Then he started making jokes. If you still had to eat and you went to the buffet, you would sometimes come back and your cutlery was gone. You looked around and then you saw Diego, first straight, then smiling broadly, then roaring. Had he hidden your cutlery. "
The Stentor journalist and board members of SV Twello spot Maradona after the game, in the hotel lobby. Behind a round table packed with half-drunk beer whistles. "It is great that you saw that. I tried to shield moments like that, háhá. Diego was of course really off drugs, he used of course. But he still drank beer. He was crazy about Heineken. The beer had to be fresh, if it got a little lukewarm, then he left it. So those tables quickly filled up. "
Usually after the second workout, drinking started. "Every day, actually. After an hour or eight. But he never drank in between training sessions. "
With the days in Mierlo, a dream came true for Mutlu. "I have always said: before I die I want to speak to him for two minutes. I had him with me in Mierlo for twenty days, day and night, the best football player ever. "
SV Twello and the trip to Pluis
Maradona was on August 21, 2017 as coach of the FC Fujairah team against SV Twello. The footballers from the United Arab Emirates came to Mierlo for a practice match during their training camp in the Netherlands.
Striker Nicky Eekhuis still remembers it well. "He only came on the field just before the start of the game. He ran badly, we saw that. For us it was very special to be on the field with that old legend. "
Free unlimited access to Showbytes? Which can!
Log in or create an account and don't miss out on the stars.

Yes, I want unlimited access for free