In Buenos Aires today, perhaps a million people have flocked to the presidential palace to say goodbye to Diego Maradona. "It's a mix of sadness and joy", says Tom Dieusaert, who let himself be drifted by the crowd to the chest of the deceased football hero.
Since early this morning, tens of thousands of Argentines have been lining up in the Casa Rosada, the presidential palace in Buenos Aires, to give a final greeting to the deceased Diego Maradona. One of them was Tom Dieusaert, a writer-journalist living in Argentina.
"They are very emotional scenes", he tells De Wereld Today. "It is a bit like a football match, with all kinds of chants and stands where T-shirts are sold."
"I went to take a look myself and saw how people crashed to the ground. It's all unreal."
"People had already gathered here at 2 am at the obelisk in the Plaza de Mayo, a central place in Buenos Aires. People were allowed in from 6 am."
"At first it was a bit grim, because" la Doce "or the fanatical twelfth man of Boca Juniors, had taken a seat at the very front and started to push back the gates. The police, who are numerous present, had to act there."
I saw people fall to the ground in front of me. It is all unreal.
"You hear songs singing all the time"

According to Dieusaert, the atmosphere cannot be compared at all with the subdued scenes that you normally see at a farewell. "It is anything but a silent procession, more of a mixture of sadness and joy."
"You constantly hear songs dedicated to Maradona or songs from the old days, such as from the 1986 World Cup." Anyone who doesn't jump is an Englishman "or" Viva Argentina "."
"At 4 pm the coffin will be removed and buried in Bellavista, a suburb of Buenos Aires. There is talk of 1 million fans who have come. Not everyone will be able to give a final greeting."
The family wants to experience the funeral itself in an intimate circle. "But like many things in Argentina, there is a difference between theory and practice. A lot of people will try to get closer anyway."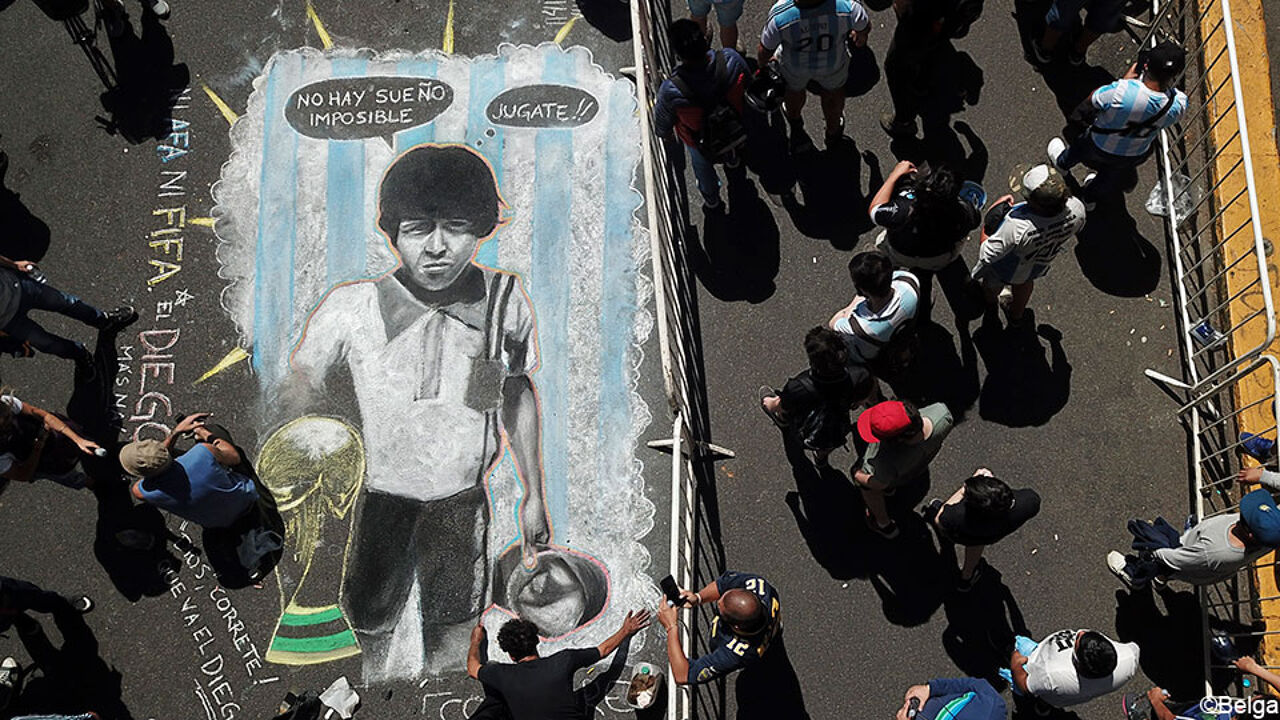 "Maradona is a figure that the Argentinean people can identify with"

Tom Dieusaert is not surprised that Maradona's death has stirred up so much in the Argentinean population. "They can't stop talking about him here. There are thousands of anecdotes about him too."
"His life was almost Shakespearean: from the slums to the top of the world and then tumbled down again through the fault of" naughty FIFA. "
"Maradona is a figure with which the Argentinean people can identify, even more than other well-known Argentines such as Maxima, Messi or even the Pope. They are still further away from the people. But Maradona has with his bold tongue and his" Argentinian opportunism. "conquered all hearts."