The tenth round of the Premier League that kicked off yesterday (Friday) continues today (Saturday) with four games. In the early game, champions Liverpool finished just 1-1 at Brighton in a mediocre game when they absorbed extra time. She did climb to the top but with only a point advantage over Tottenham she lacks a game. James Milner was also injured and Jürgen Klopp's list of missing persons was lengthened. At 19:30 Everton will host Leeds, and the English evening will be signed at 22:00 with a game between West Bromwich Albion and Sheffield United.
The champion started with an offensive line-up with Muhammad Salah, Diego Giota and Roberto Firmino when Minamino played with them while Sadio Mana Sufsal. In fact, the hostess got into good situations. Neil Mofai kicked out in front of Allison at the start of the game and later also missed from the penalty spot: Aron Connolly was fouled on the left side by young Neko Williams, but the striker rolled the penalty near the crossbar (20). Six minutes later the unlucky striker was replaced due to injury.
Liverpool did not present its typical football. In the 35th minute, Salah managed to score easily in a one-on-one, but the goal was disqualified after a test in VAR due to a small difference. Although Brighton had little possession of the ball, they gained confidence and were dangerous in bursts. In the 54th minute Danny Welbeck made a great operation when he passed Fabinio and also misled captain Jordan Henderson but with a weak kick.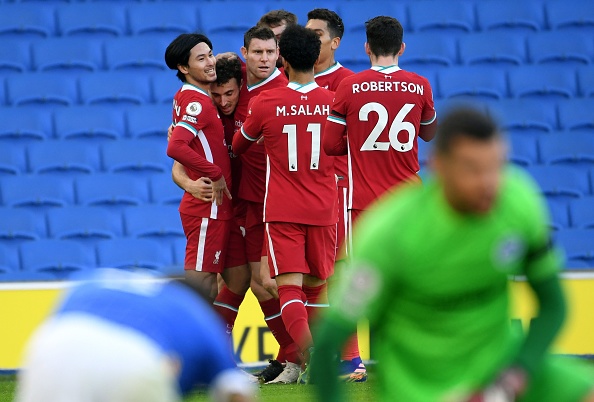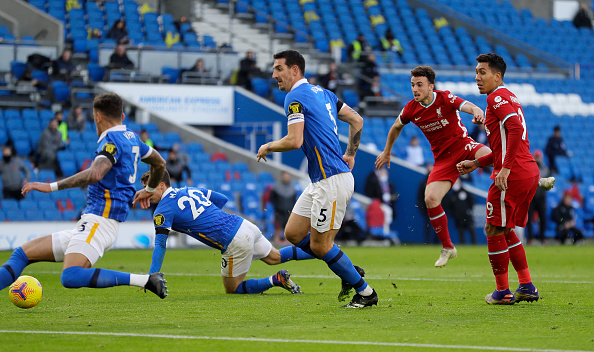 In the 60th minute, the goal fell on the other side. Diego Jote put the champions ahead with a wonderful goal when he received a pass from Salah, broke free from the entire defense and kicked to the corner, 0-1, the ninth goal of the season for a player who joined from Wolves. Only Muhammad Salah has scored more for Liverpool this season.
Four minutes later the Egyptian was replaced and really disliked his coach's decision. In his place came in to play Sadio Mana. In the 74th minute, Milner finished his part due to injury, while Brighton, Adam Lalena, also lasted only eight minutes due to injury. In the 80th minute Andrew Robertson sent a dangerous ball away and saved the champion. In the 83rd minute, another Liverpool goal was disqualified when Mana hit the net wonderfully but was different.
In overtime (90 + 1) the drama skyrocketed when he checked in the VAR system that Robertson hit Welbeck in the box as he tried to keep the ball away. The referee ruled on the penalty spot and Pascal Gross kicked lightly to the center of the goal, 1: 1. On Tuesday, Klopp's Reds will host Ajax in the fifth round of the Champions League and will want to secure a place in the next round – which they have not yet done. Later, on Sunday, Wolves will arrive at Anfield.