VideoNot a 'Kijk op Voetbal' this time, but a 'Kijk op Diego' by reporter Maarten Wijffels. About the Argentinian's unprecedented talent, beautifully explained by Gary Lineker at BT Sport last night.

Maarten Wijffels



Latest update:
18:57


Whenever a legendary athlete dies, the same questions are asked: How special was he? What exactly made him so good? The answer almost always comes from competition images that everyone can dream of. Or – as with Cruijff's death – reference is made to a specific action that became a trademark. In his case, the 'Cruyff turn'. But you can also interpret someone's exceptional class as Gary Lineker did on Wednesday evening with Diego Maradona. Highly original.
The setting was an English TV studio from BT Sport. There was Lineker with three other former top footballers: Rio Ferdinand, Michael Owen and Peter Crouch. It was Ferdinand who asked Lineker the question of questions. And Lineker started off. There are, of course, several remarkable players in the history of football, he said. But Maradona, she was incredible. He played with him once, half a match, in a rest-of-the-world team at Wembley against an English League team.
Lineker: ,, It was 1987, when I played for FC Barcelona myself. A lot of great players were together that day, like Platini and so on. But everyone was totally impressed by Diego. "




All of us, all those good footballers, watched with open mouths. Impossible. Wow!

Gary Lineker
"It started already, we were in the dressing room, just wearing pants. And you know that you take a pair of stockings from a basket and that they are rolled up in a ball. Maradona held up that ball of sock. With only his left foot. At least five minutes. We thought it was beautiful. Then outside. There he did something incredible, something I've never seen on a football field.
"He walked high-handedly to the center circle and when he arrived he shot the ball in the air. As hard as he could. Straight up. Then he waited. And when the ball came back down, it was right back – bang! – raise the ball as hard as possible. He did this 13 times in a row. And the furthest he moved meanwhile was three steps. All of us, all those good footballers, watched with open mouths. Impossible. Wow! "
Lineker also recalled going back to training at Barcelona the next day. "We tried to imitate that with the entire group of players. The highest number anyone achieved was three. And it was a rush to make it to that third time. I've never seen anyone with such a special connection to the ball. "
Tackles at waist height
Subsequently, in the studio it was also about the fields on which Maradona played. And the hip-height tackles that 'El Pibe d'Oro' had to deal with in the 1980s.
"It's what people don't realize," Lineker said. "In those days you could kick and slay your opponents with tackles from behind." Four years later at the 86 World Cup they also tried it, but then he just couldn't be stopped.
Lineker: "You can discuss the hand of God and so on. But the other goal he scored in that quarter-final match against us … You have to imagine that the field in the Azteca stadium was horrible. The grass had been re-laid just before the tournament and it was like turf in your yard, every time you pushed off with your foot, the ground would slide a little under you. But on that dramatic grass, Maradona briefly turned away from players, did a half pirouette and passed half of our team on his way to his second goal … "
It was the moment in his career that Lineker most considered clapping for a scoring opponent. "I didn't do it because you knew you were then"back home'would be finished. But it had been appropriate, Maradona was'head and shoulders' the best player of my generation. "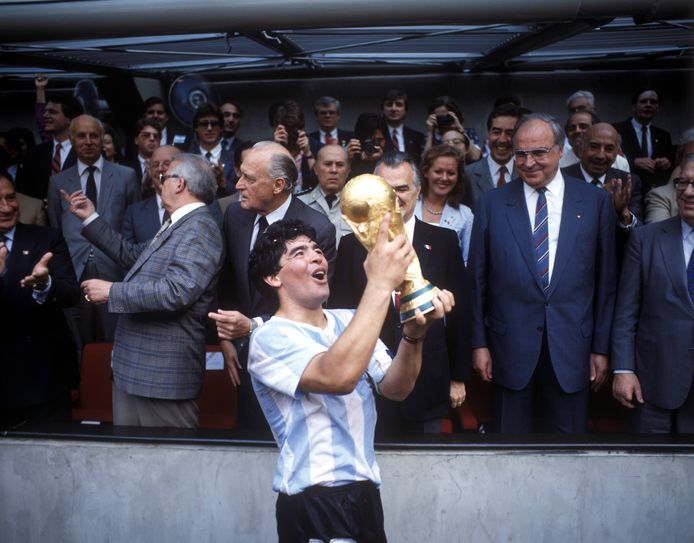 Free unlimited access to Showbytes? Which can!
Log in or create an account and don't miss out on the stars.

Yes, I want unlimited access for free