UpdateThe team of Buy without Looking Last night faced a major challenge: finding a home for pregnant Deveny and her husband Roy, with a budget of only 210,000 euros. Estate agent Alex van Keulen found a home for the couple, but this left little money for the necessary renovation and furnishing. Still, the lovebirds got their palace delivered at the end of the ride. And what kind of one.
In Buy Without Looking Real estate agent Alex van Keulen and structural engineer Bob Sikkes play leading roles, who buy up buildings and then convert them into the house of their dreams. Krabbé mediates, stylist Roos provides the finishing touch. Last night the RTL program attracted 1,496,000 viewers, with which it attracted more viewers than the SBS hit for the first time since the start of the new season Chateau Meiland. The victory was narrow: Martijn Krabbé and his team won the battle with only 90,000 people more.
The episode was all about 25-year-old Roy and his wife Deveny (24). The couple still lived with their parents, but after a relationship of three years were more than ready for their own place. Not only because Roy and Deveny continuously shuttled back and forth between their parental homes (Den Bosch and Oosterhout), but also because the two were expecting a small one.
Despite the need for a home of their own, Roy and Deveny's wishes were quite different. Roy preferred to live in the vicinity of Den Bosch and Deveny in the vicinity of her family in Oosterhout. Moreover, they could not agree on the type of home: an apartment or a single-family home? The couple's budget, 210,000 euros including a renovation, didn't make it any easier either. Just find a house with at least two bedrooms, which is also ready to move in.
Search
The team of Buy without Looking went to work in good spirits, but warned Roy and Deveny in advance: the search for a home that met all their requirements would not be easy. Nevertheless, broker Alex found a single-family home in Waalwijk. However, the house, which was purchased for 187,500 euros, still had to be taken care of. There was still 22,500 euros left for this. A big challenge, Roy also realized. "I am happy when it is finished downstairs", he responded optimistically after seeing the house. Deveny also had to get used to the hut. "There is no back. I'm used to that from home ", she noted.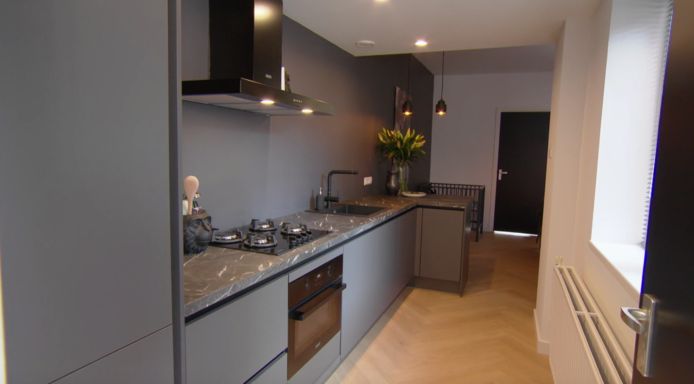 While the pair had rallied around friends and family to help with the renovation to cut costs as much as possible, Roy faced a setback. He ended up in hospital no fewer than twice with a collapsed lung, after which an operation awaited him. The recovery would take him about two to three months. "I am disappointed about that, because I would have liked to help Deveny now that she is pregnant", said Roy.
In the meantime, the house of Roy and Deveny was being worked hard. The team of Martijn Krabbé's housing program even managed to deliver a palace with the couple's minimal budget. "Wow", Roy and Deveny exulted when they saw their house for the first time. ,,Super. From top to bottom, it is completely finished. And I really did not expect that in advance. "
Watch our videos about living here:
Free unlimited access to Showbytes? Which can!
Log in or create an account and don't miss out on the stars.

Yes, I want unlimited access for free