After the amazing turnaround on Maccabi Haifa last Tuesday that added three important points to Hapoel Kfar Saba's balance and quite a bit of peace for Amir Turgeman, the Greens from Sharon are preparing for the last hurdle for them this busy week, when they will also try to surprise Maccabi Tel Aviv tonight (Sunday) in Bloomfield.
Just before that happens, the team received a tremendous shot of encouragement from the green fans who came to the concluding training session. Dozens of fans lit flares, explosives and fireworks and sang to the players. The players say that they were especially moved by the gesture, probably at a time like this without a crowd on the pitches and they answered the fans and shouted at them: "Look what one victory does. Let's win tomorrow!".
The one who will be absent from the game, as a disciplinary penalty, is Yahav Afriat who will not dress and will not be included in the game's roster. The young striker was reprimanded by the coach after ignoring the tactical instructions and even brazenly responded to Turgeman when he reprimanded him for it. Therefore, Michael Umo will be the one to take his place. Another change will be made in the center of the field when Raz Meir will be replaced by T-shirt Gethon.
Apart from these, Turgeman will keep the lineup and the lineup with him opened against the Greens from the Carmel. It should be noted that this time too Matan Zalmanovich will continue at the gate and hope to continue to show good ability while Itamar Israeli is recovering from surgery due to inflammation in their appendix.
"We saw against Maccabi Haifa in the first half the things we need to work on and in the second half the potential of this team," he said. Amir Turgeman. "It has happened to us several times already, and we need to emphasize that – concentration throughout the game and hard work. There is a wide staff here and those who meet the requirements will play."
Ahead of the meeting with the champion, he said: "I think we can do beautiful things against Maccabi Tel Aviv. They are a great team. The champion does beautiful things in Europe. But if our players manage to keep pace and intensity for many minutes, we can come out with points. It's a crowded league. The difference needs to be made by small actions within the game in defense and offense. "
Estimated composition: Matan Zalmanovich; Omar Danino, Sudik Atanda, Tal Makhlouf, Aviv Solomon; George Pochiba, T-shirt Gethon, Ben Reichert; Or Dassah, Michael Umo, Waga Kizito.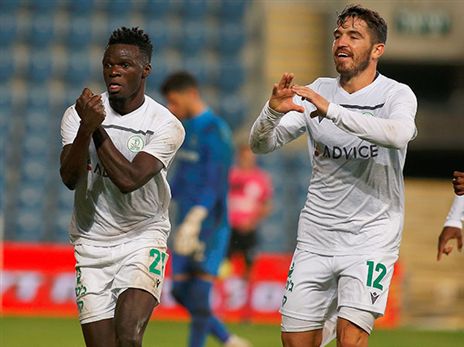 Kafas will also surprise Maccabi Tel Aviv? (Alan Shiver)