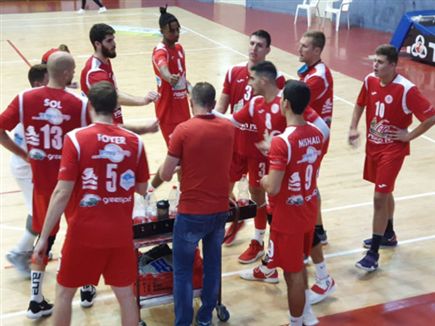 The fourth round of the Volleyball Premier League kicked off tonight (Tuesday) with four games: In the spotlight, the illegal immigrants defeated the Asher / Acre headquarters at the end of a drama. At the same time, Eilabun, Kfar Saba and Hod Hasharon completed victories as well.
Hapoel Mate Asher / Acre – Hapoel HaMa'apil 3: 2 (16:25 28:25 17:25 25:19 15: 7)
On days like theirs, Naaman Hall would be filled with a large crowd and an electrifying atmosphere reminiscent of more beautiful days – but even without an audience presence, these two luxury clubs provided a tense evening and a special atmosphere, and at the end the guest came out on top. Garcia led the qualifier with 26 points, Wolinski added 14 more points. On the other hand, without Alex Osukin and Noam Ariel, the Asher / Acre headquarters relied on the young crossover, Ido David, who contributed 30 points. Midfielder Jan Sol added 15 points of his own.
MS Eilabun – ASA Beer Sheva 0: 3 (25:23 25:20 27:25)
After three losses to teams stronger than her on paper, and despite the tough draw, Eilabun continued to demonstrate a fighting game and squeezed compliments. And tonight, the feeling that the team will return to the winning track has become a reality. Eilabun collected first points, Beer Shevaim recorded a second consecutive loss. The acceptance percentages of MS. Eilabun were almost excellent (85%) thanks to Fukando (90%) and Habib Dahr Zidani (85%). Yoav Karwani led ASA with 13 points, Ahmad Sharqiya, Hagai Zevulun and Eli Friedrich added 8 points each.
Hapoel Urban Kiryat Ata – Hapoel Kfar Saba 3: 0 (25:11 25:14 25:19)
After the impressive victory over the outfielder outside, there was a feeling that Ata would continue to display excellent ability to win. But in practice, Sagi Baram and his trainees, without Tamir Hershko, who is still recovering from the Corona virus, demonstrated superiority throughout the game and interrupted the host's winning streak before Thursday's meeting against Asher / Acre. Andrei Kablinka from Kiryat Ata finished with only 8 points, Ilya Goldrin gave him a counter with 13 points (73% reception, 69% attack, 2 blocks and 2 aces).
KK Tel Aviv – Maccabi Mosinson Hod Hasharon 3: 0 (25: 18- 25: 10-25: 12)
When they are still without a win, the Tel Avivians hoped to surprise – but dreams aside and reality aside. In practice, after collecting debut points in the previous round, Hod Hasharon did not encounter any major difficulties and added three more points to the balance. Amit Moore and Amit Masuri led KK Tel Aviv with 7 and 6 points respectively, and Ludimir Tibkon finished with 10 points on the other side.