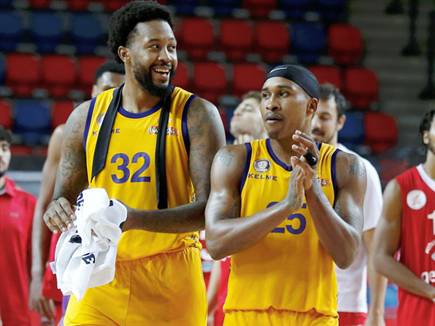 About two weeks before the start of the 2020/21 season of the Winner Basket League, Hapoel Holon held its traditional press conference today (Thursday), with the participation of coach Stefanos Dadas and captain Guy Panini. The two also commented on the team's chances in the FIBA ​​Champions League. Shortly afterwards, Holonia also announced a new addition to the squad: Frederic Bourdieu signed a one-month contract with the club, following the injuries of Yogev Ohayon and Oded Brandwin.
Dadas referred to a squad built in the summer in Holon and said: "My philosophy is that players should play in several positions. I believe in shorter rotations with players who play a lot. I don't think we lack size, we have a lot of forwards who can keep highs and lows. The way we play "We can attack rivals who play with big men. We don't have a big budget like we used to, so we made adjustments and that also fits my philosophy."
Holon, as mentioned, will also play in the Champions League this season. The Greek coach analyzed the odds in this arena: "Compared to previous seasons, the Champions League is shorter this season with only 6 games in the regular season. Holon has never been through a round in the Champions League and that gives me great motivation to do it. We have a strong home, AA. K. has come a long way in recent years and is a favorite to finish first, Shula and Minsk strong teams with experience.All three teams except AAK have the same chance to advance.One mistake can get you out of the race, we will have to be careful in every game.In the previous format there was a chance to correct, this time No".
Guy Panini added: "The change in format helps and increases the chances of rising, but we have to remember that we have really good teams in our house and there will be very tough competition for the rise. We start against AEK Athens, which is one of the best teams in the factory. It is easier because there are only four teams, but on the other hand it is not possible to correct and there is no room for mistakes because there are few games. "