A great loss to Israeli dance: This weekend, at the age of 86, the dancer and choreographer Moshe Efrati, winner of the Israel Dance Prize for '96, passed away. Efrati, one of the pioneers of the Batsheva ensemble, won his place in the international dance pantheon for the formation of the "Voice and Silence" ensemble, which with its unique combination of deaf dancers with ordinary dancers was a novelty on a global scale.
"If I prove that the physical disability of deaf dancers is meaningless, it shows that there is no end to the ability of any of us and with faith it is possible to achieve things that are beyond the ordinary," he told me in an interview in '80. When I reminded him of these words in an interview three years ago, he responded: "I stand behind every word I said to you then. The human spirit is above all limitation and in our band it was expressed that it was impossible to distinguish between hearing dancers and deaf dancers."
"A dancer's career does not last forever and he must know how to retire from the stage on time," Efrati said at his museum in Tel Aviv, when surrounded by his many paintings it seemed to me like a lion in winter. "A dancer's career is something that comes and goes, was and evaporated, when he reached a certain age the stage vomited him. Of all the performing arts this is the art of the moment. Compared to actors and singers who can continue to perform even in adulthood, the dancer whose art is expressed in movement."
Efrati was a sixth-generation Jerusalemite, with roots in Serbia, Greece and Yemen. As a baby he was abandoned by his father. Was a "smart" graduate. When his brothers fought in the underground before the establishment of the state, he began in his youth to engage in dance as a sports tool for bodybuilding, "something that was not common in the macho atmosphere of the time." After military service in the Golani, he studied dance at the Jerusalem Academy of Music and Dance. It was his teacher there, the choreographer Hasya Levy-Agron, who met the young Efrati with Martha Graham, the high priestess of modern dance, during a visit to the country in 1957, who impressed him and invited him to study with her in New York.
"In New York, I was exposed to and influenced by African-African culture," he said in an interview. "I lived in Harlem for a year then, when no one dared to go in there. What I absorbed in the churches of the blacks in the neighborhood was later expressed in my dance works along with the atmosphere of the synagogues of my childhood in Jerusalem."
Efrati was the right man in New York at the right time. When Baroness Batsheva de Rothschild came there to recruit Graham as the first artistic director of Batsheva, she swept Efrati with her, who while still in "The Big Apple" learned his solo roles in the new band's original works. Efrati, who gained fame with groundbreaking works such as "Developing a Lying Sin" and "Ein-Dor," which Claire Barnes, the renowned critic of the New York Times, described as "the Israeli dancer offering something individual," was not content with that.
In 1971, he retired from "Bat Sheva" and formed the band "Silence", which with the addition of dancers listening to it became "Voice and Silence". Efrati shortened his unique success with the deaf dancers through the innovative "vibration method" he invented. "I came across this method by chance," he repeated. "When a hard-of-hearing dancer, who danced with me, told me she had heard Bach, it amazed me. After all, they do not exactly hear. Then, when she moved away a little and I accidentally knocked with a stick on stage, from a long distance she turned my head.
"I learned from these dancers no less than they learned from me," he added. "Deaf dancers are just phenomenal and first-rate imitators. In my opinion, there is a tremendous baggage within them that we, the hearers, are unfamiliar with. They prove that it is possible to communicate without speaking and enough with signs, looks, or head movements."
Efrati, who in his devotion to "Voice and Silence" seemed to have given up the career of an international choreographer, did almost everything in it and often faced the difficulties she encountered. "The bank is no longer willing to release money for our existence," Bellin told me in another interview in 1986. "We have reached a moment of truth, when there is simply nothing to pay the dancers. It has already happened that I have issued checks to the band from my personal account. . In the situation of the band, this is the best medicine for us. "
Apparently, winning the Israel Prize in 1996 was the highlight of his career. He said that when Minister Shulamit Aloni called him to inform him of the victory, he did not go out of his way. "For me prizes are more applause," Cole tried to play her.
According to Efrati, a respected and award-winning dancer, he was no less excited, perhaps more so, when he won the Isaac Stern Prize for his contribution to shaping Israeli dance. "Do you know what it was like for me, when the great violinist came to play for me?", Thrilled.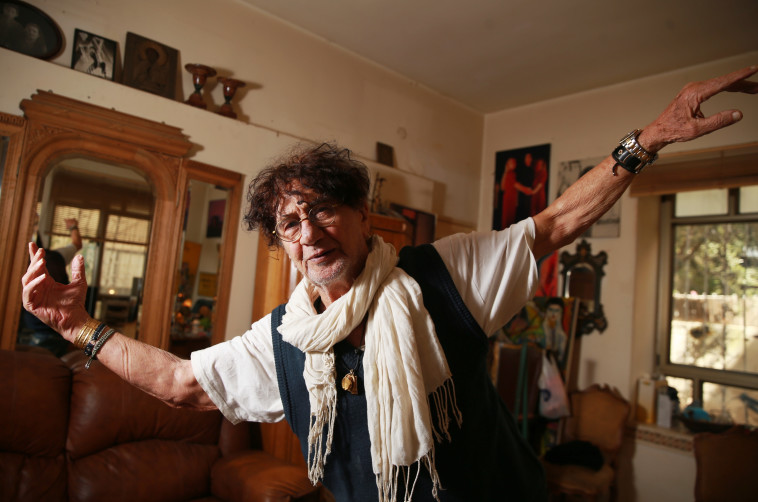 In 2001, after a forced closure of "Voice and Silence," "which I had as a fall into a deep pit," he passed, "a small stroke," he said, that threatened to paralyze him. "Doctors were mad at me for how it suddenly passed me by in two weeks," he said. "When I started painting, there was no trace left of the event."
"Even today I try to enjoy life, albeit in a different way," he testified. "On my way I stayed true to the dance, with my acrylic paintings having a lot of movement and also motifs from the dance pieces I created in the past. With all the pain, that's what I have left from the dance." When he finally asked his opinion on dance in Israel of the 21st century, he replied: "We continue to do dance in the country and it is good to do, although as in times of lack of budgets. In this respect, the art of dance in Israel was and remains a stepdaughter among the performing arts."
---
Source link by https://www.maariv.co.il/culture/theater-art/Article-792498
*The article has been translated based on the content of Source link by https://www.maariv.co.il/culture/theater-art/Article-792498
. If there is any problem regarding the content, copyright, please leave a report below the article. We will try to process as quickly as possible to protect the rights of the author. Thank you very much!
*We just want readers to access information more quickly and easily with other multilingual content, instead of information only available in a certain language.
*We always respect the copyright of the content of the author and always include the original link of the source article.If the author disagrees, just leave the report below the article, the article will be edited or deleted at the request of the author. Thanks very much! Best regards!