Membrane keypads are more and more present on the front of the gaming scene; Affordable, quiet and powerful, they offer an attractive alternative to mechanical keyboards for many players. After the HyperX Alloy Core RGB, today is the turn of Cynosa Chroma from Razer to go through our hands. Sold around € 80, this membrane keypad and dome displays a price higher than many mid-range mechanical keyboards, the question remains whether this Cynosa Chroma meets all our expectations and if it represents a choice relevant for players needing silence … and performance!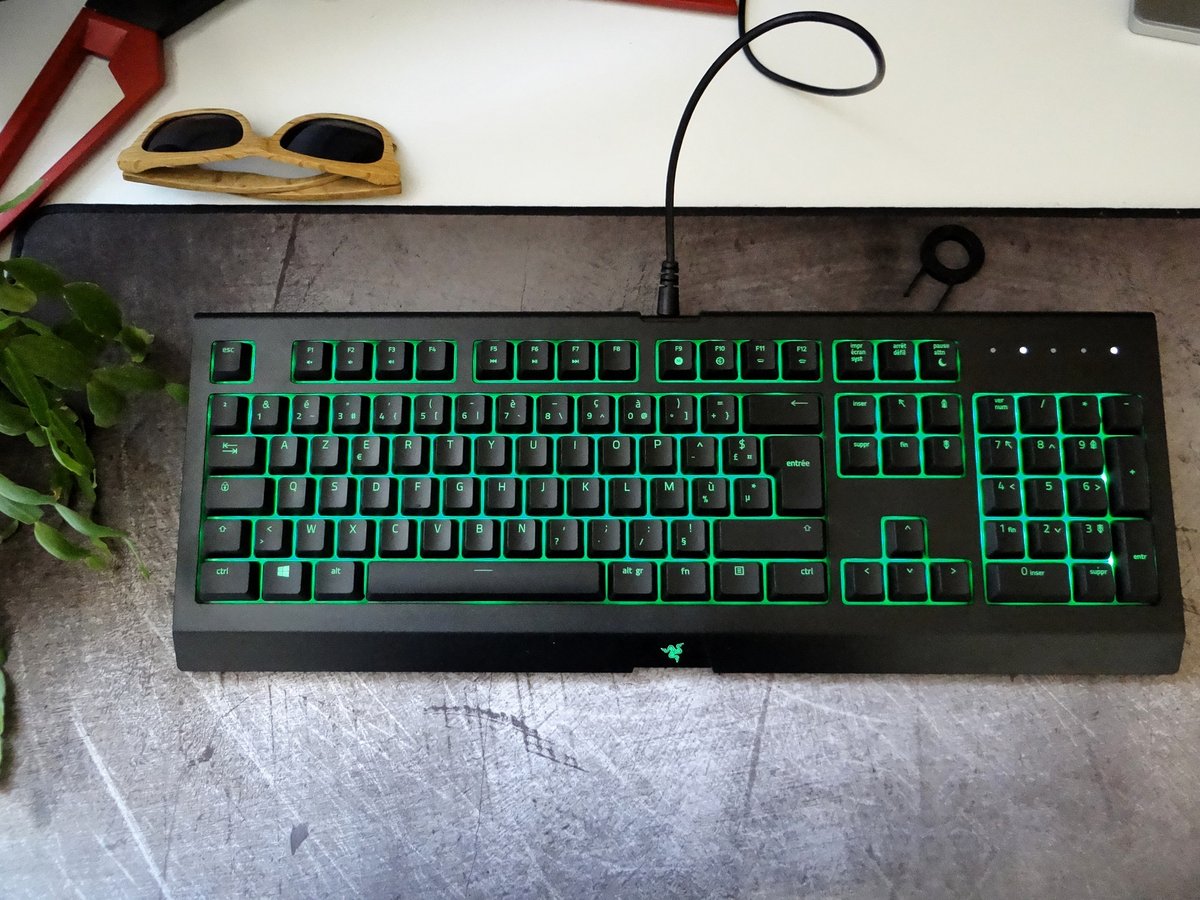 © Matthieu Legouge for Clubic
Razer Cynosa Chroma: its technical sheet
The Californian gaming device company has long been used to the ultimate in offering high-end products always accompanied by some innovations, as was the case initially with the Boomslang mouse, or more recently with keyboards like the Huntsman Elite embedding opto-mechanical keys.
Praised for the aesthetics, quality and performance of its products, Razer also tries to convince gamers anxious about their wallet as here with the Cynosa Chroma, an entry-level membrane keyboard that is currently trading under the 70 € mark.
The Razer Cynosa Chroma is :
Keyboard type : with membranes
Anti-ghosting : yes, on 10 keys
Format : 104 keys / AZERTY
Backlight : RGB touch by touch
Macros support : Yes
Multimedia keys : no
Weight 950 g
Dimensions : 46.3 x 15.4 x 3.1 cm
Connection interface : wired, USB 2.0
Software : yes, Razer Synapse
Price and availability : already available, at 79.99 €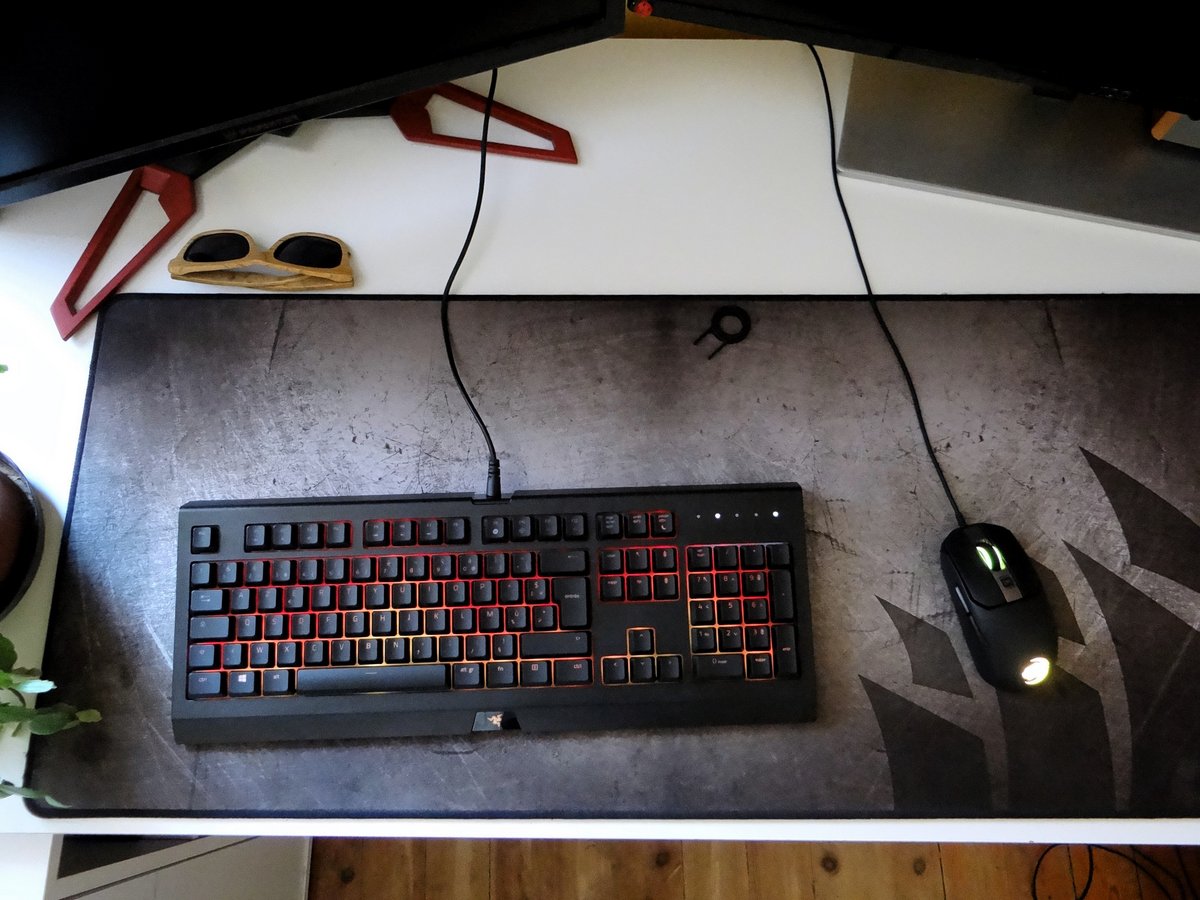 The lighting "Fire" is the most beautiful effect © Matthieu Legouge for Clubic
Design and ergonomics
On its most expensive products as on those of entry-level, Razer seems to have taken great care that we find a neat design and good quality of manufacture. Thus, we were not surprised to note at the unpacking that the Cynosa Chroma has a sober and elegant aesthetic that will adapt without any problem to all kinds of configurations and offices.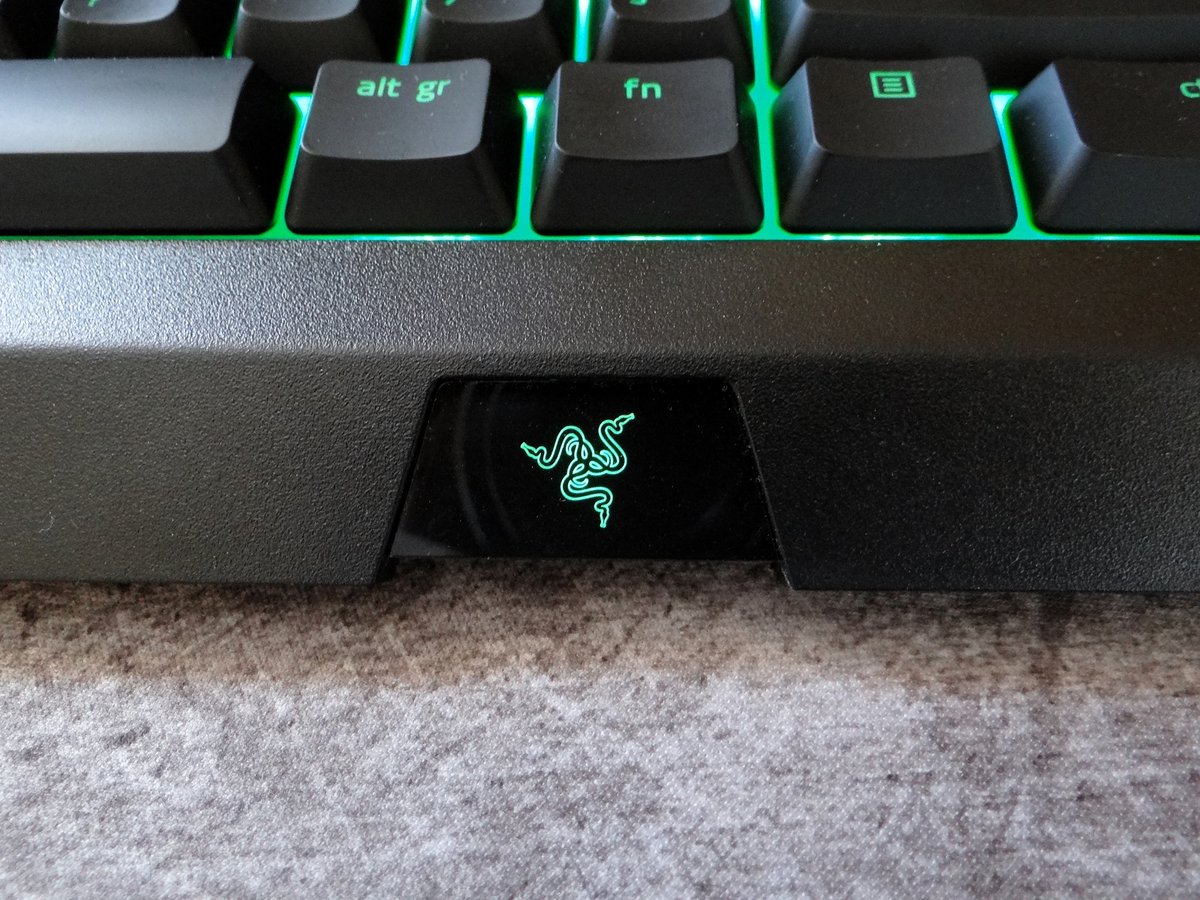 © Matthieu Legouge for Clubic
If it remains fairly classic, the signature of the mark is here very recognizable; first by the presence of the Razer logo, but also by the finesse of screen printing of his keys. Moreover, we also find this strange habit of Razer to reverse the positioning of numbers and special characters, which are also similar in size, which is not the case for the vast majority of keyboards on the market. As such, typing errors with special characters are not uncommon during the first few days of use when it is not customary to use a Razer keyboard.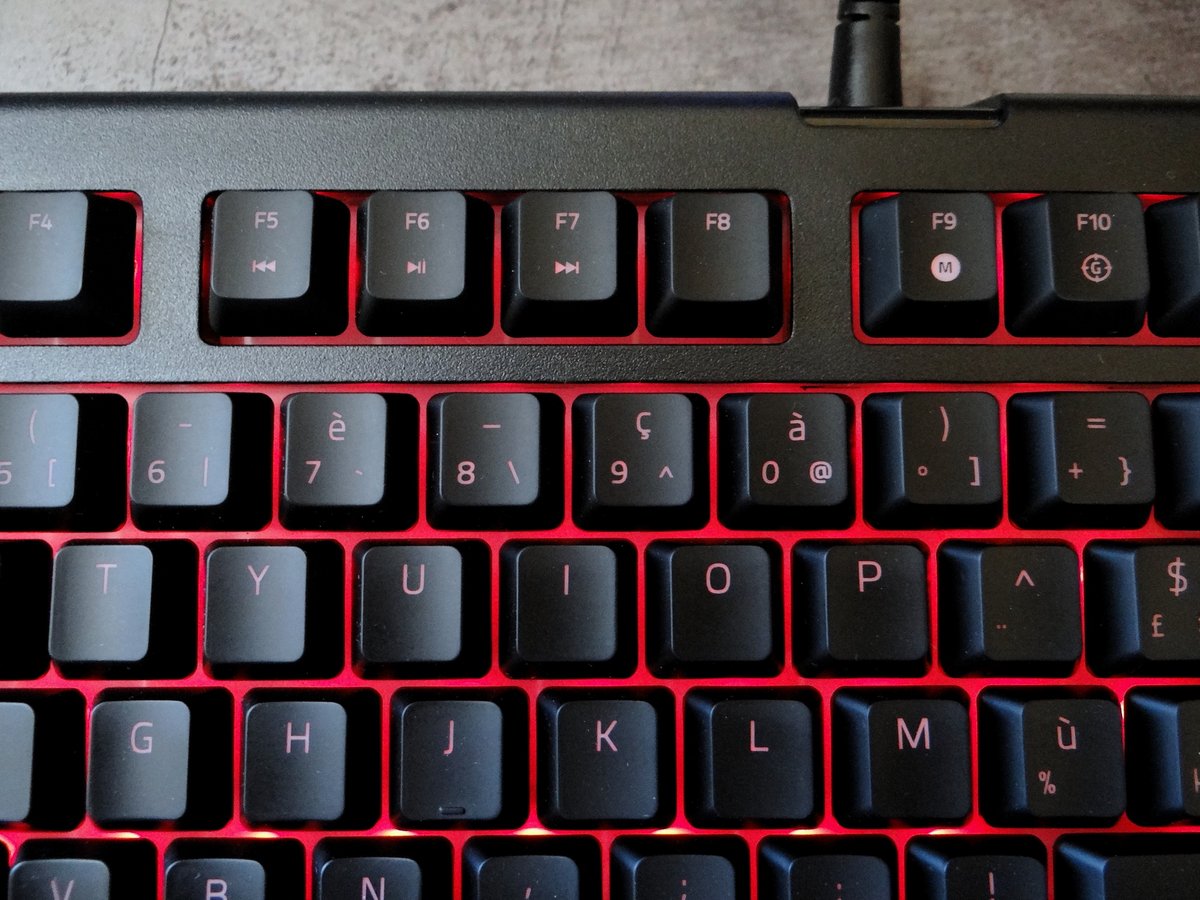 © Matthieu Legouge for Clubic
Regarding the quality of manufacture, difficult to find real reproaches to this Cynosa Chroma. It looks robust despite its all-plastic design and the black matte chassis should allow this keyboard to keep its place on your desktop for several years. No defects are to be denoted either on the finishes, they are worthy of a device Razer and force is to note that we have in the hands a keyboard from a picky manufacturer who sticks to his image.
Backlight and Razer Synapse 3
The backlight is obviously part of the 16.8 million colors for a configurable lighting touch by key. Many effects are available via the software Razer Synapse 3, still in beta. If some slowness and other bugs are still, sometimes, regrettable, Synapse 3 proves to be quite complete and allows a thorough customization of your Razer devices.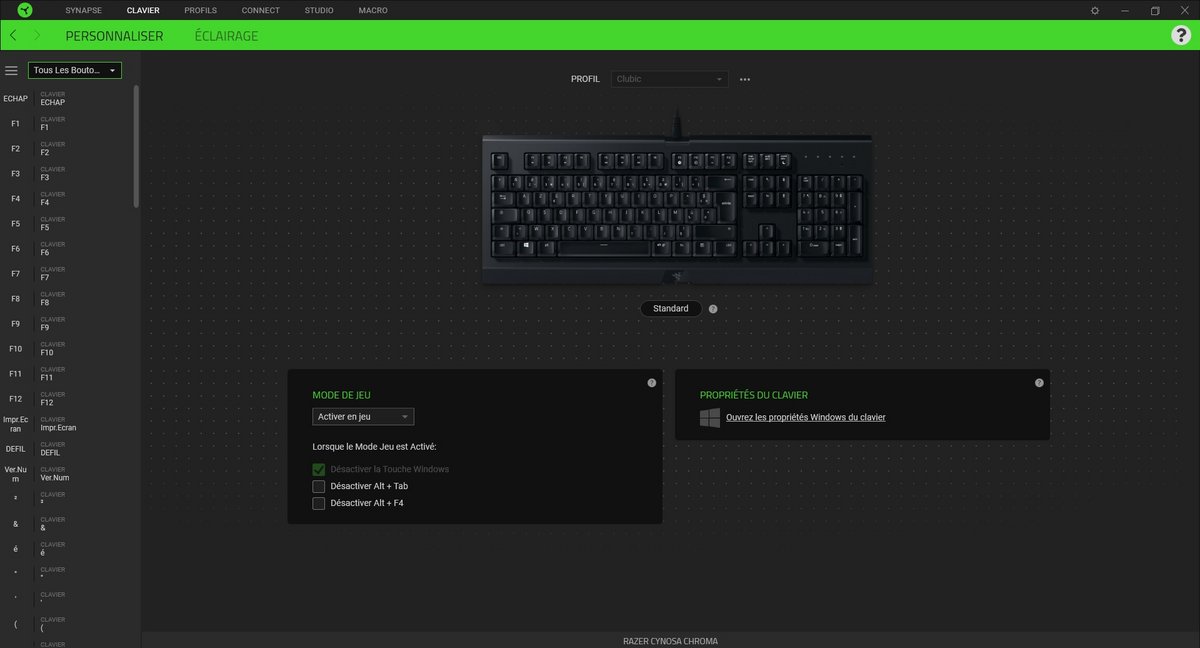 Unfortunately, many Razer products are still only compatible with Synapse 2 … so it may be necessary to have both software installed, a solution not really comfortable for everyday use. This observation is all the more true that, natively, the Cynosa Chroma has no key dedicated to the backlight (except F11 and F12 which can reduce or increase its intensity), it is therefore necessary to go through Synapse 3.
However, you will be able to set dedicated keys for lighting using the software. Interesting feature: Synapse 3 ships functionality Hypershift ; this allows you to assign a secondary function to each key!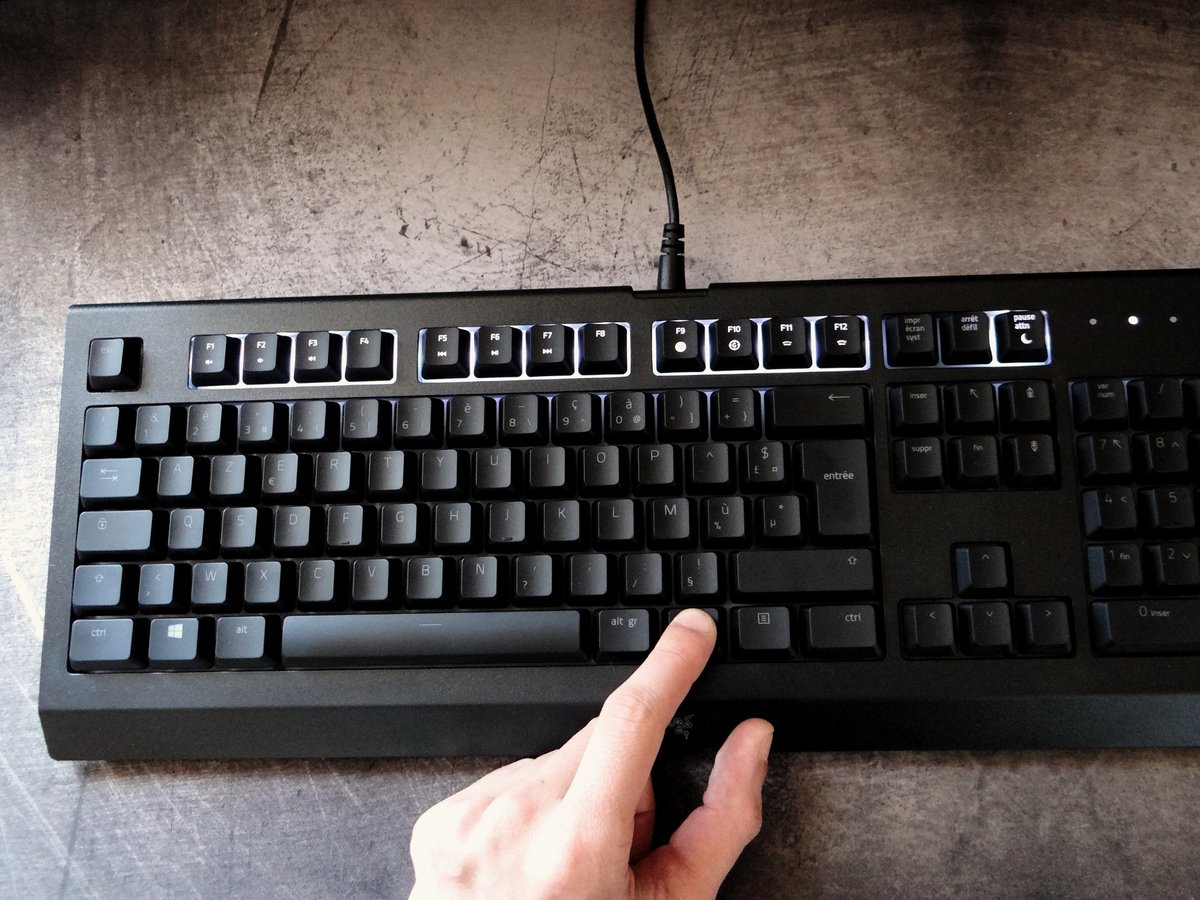 © Matthieu Legouge for Clubic
Finally, Razer offers several shortcuts via the Fn key and the F1 to F12 keys. There are some multimedia shortcuts, the recording of macros on the fly, or switching to "gaming" mode that simply disables the Windows key (and Alt + F4 Alt + Tab). When you press the Fn key, the keyboard only illuminates the shortcut keys, a gadget feature but all in all quite pleasant.
Insufficient stability?
At the back of the keyboard, we find 5 non-slip pads rather wide and two feet that allow to tilt on two different heights. Flat, the stability of the keyboard is perfect, but it goes bad when you want to tilt the beast. Indeed, the feet do not haveno anti-slip coating and their use means that the three skates above are no longer in contact with the office. Result, the keyboard tends to move well during our gaming sessions and it is quite embarrassing to have to replace very regularly. This embarrassment was quite heavy when we tested the keyboard on our satin desk, but much less with our XXL mouse pad whose surface is much less slippery.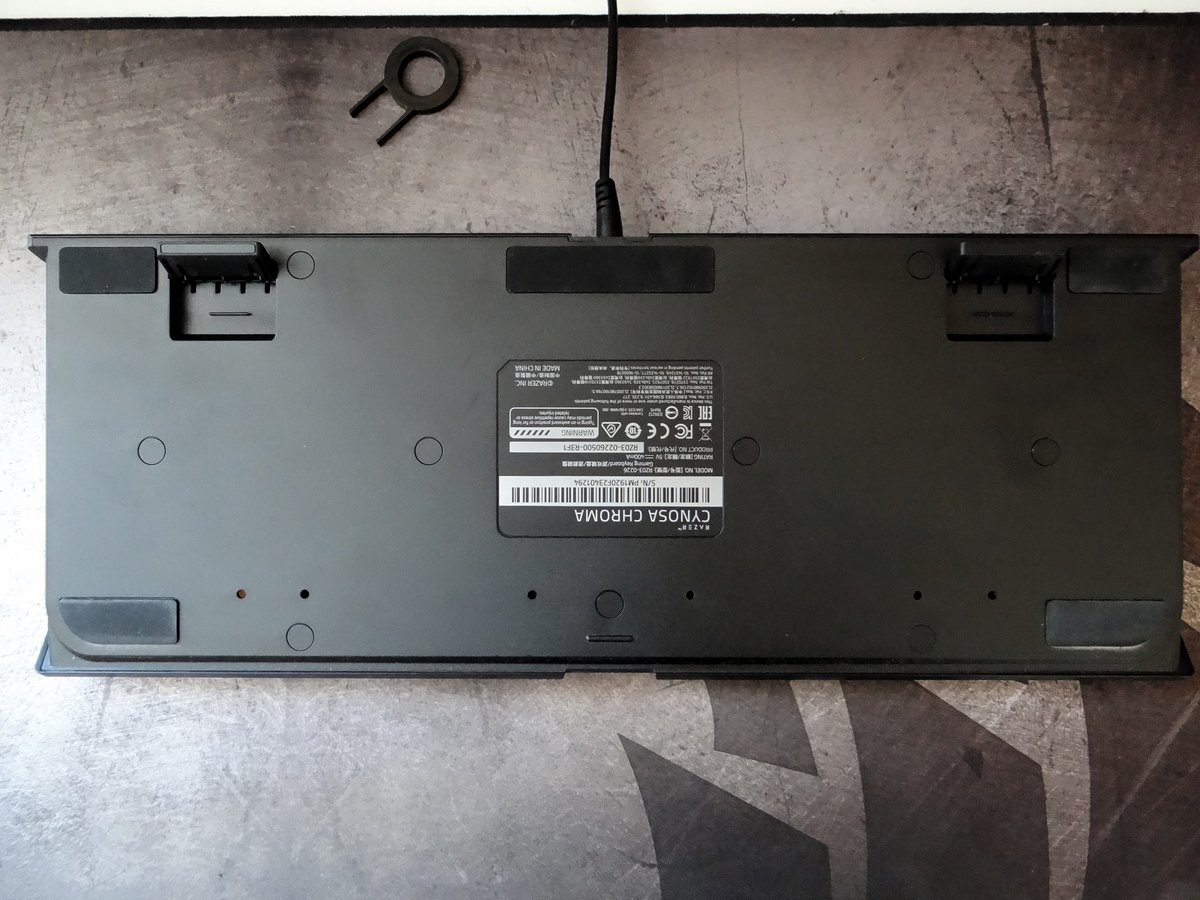 © Matthieu Legouge for Clubic
For those who like playing with the keyboard flat it will not cause any concern, but be careful if you unfold his feet to arrange it on a smooth and slippery surface. At the limit, there is always the possibility of sticking non-skid pads bought separately; a makeshift solution that should still fulfill its duties.
To finish on the question of the ergonomics of this keyboard, it seems obvious that the absence of a wrist rest is detrimental to him. Compact enough for a standard size keyboard, a wrist rest would have allowed a much more comfortable use and avoided feeling tired after a few hours of play.
Strike and performance
Using a membrane keyboard for everyday office use is a considerable asset for several reasons: relatively quiet, it allows a good typing pace without the feel of typing on a typewriter; typing errors are few and the touch offered not the membranes is very nice.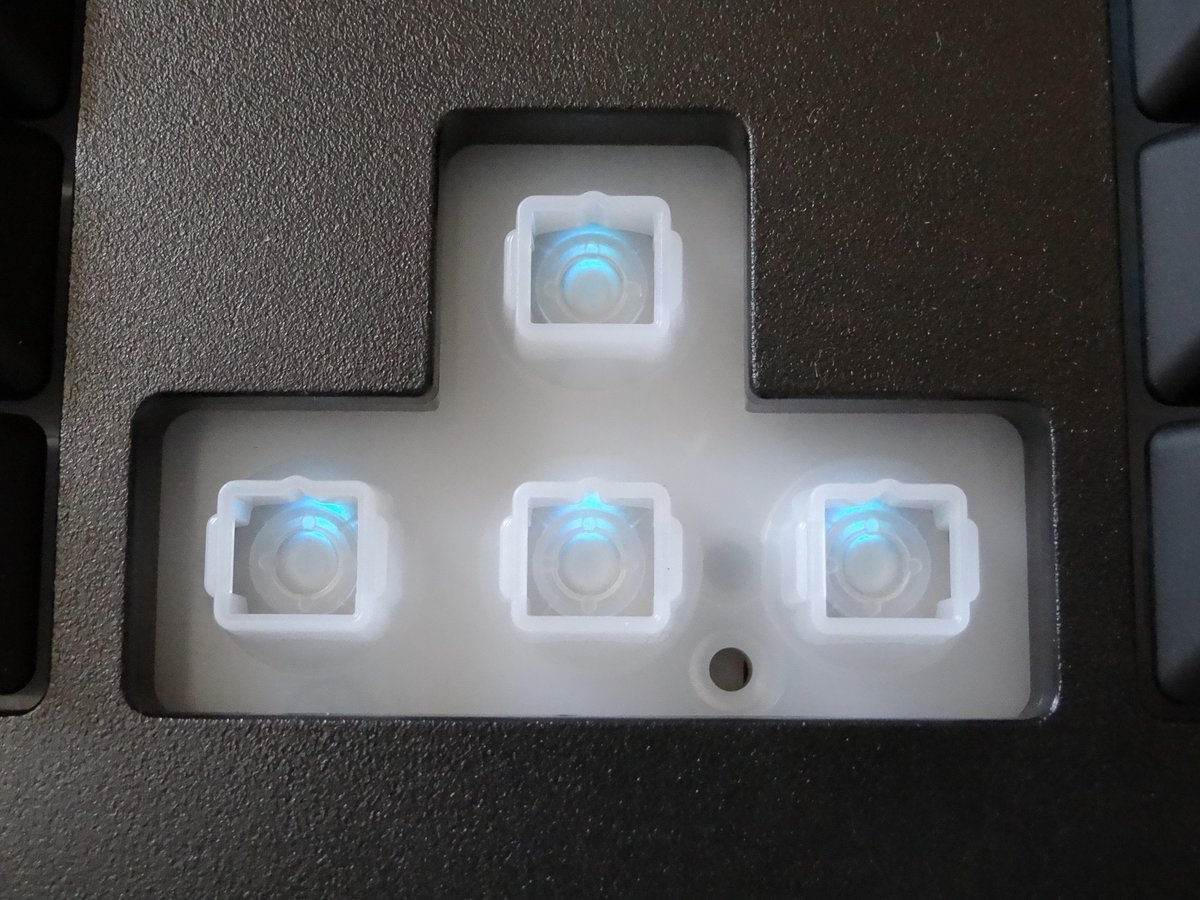 © Matthieu Legouge for Clubic
For gaming use, it's a little different and it's always disturbing to switch from a good mechanical switch keyboard to another equipped with rubber domes. Although this is almost imperceptible on well-designed models, it must be said that membrane keypads are less responsive and are subject to more activation errors than their mechanical counterparts. Nevertheless, the Cynosa Chroma behaves quite well in play, the keys did not seem spongy as on other models with membranes and their reduced height compensates for their activation distance longer than those of a mechanical keyboard.
The most interesting aspect of this keyboard is finally its silent character. If we usually play with a keyboard equipped with MX Silent switches, the keys of the Cynosa Chroma are much less noisy and this can prove to be an argument of choice for many players. The most striking example is that of the space key, the noise that it emits here is stifled to the maximum while on our MX Silent it quickly manages to annoy our entourage.
© Matthieu Legouge for Clubic
Membrane or mechanics, it is mainly a question of habits and sensations. If some will leave nothing for their Cherry MX switches, others will be seduced without worry by a keyboard like the Cynosa Chroma. The final criterion of choice is, of course, that of sustainability; Rubber domes will tend to deteriorate much faster than a mechanical switch, but membrane keypads are also generally sold a little cheaper.
Razer Cynosa Chroma: Clubic's review
Razer signs a very good keyboard with this Cynosa Chroma. Its versatile design is designed to appeal to the greatest number while these features should not leave the gamers marble. Neat backlighting, anti-ghosting on 10 keys, macro editing on the fly, and not to mention the Synapse 3 software which, despite some failures, is a complete and easy-to-use solution.
Some absences are to regret, starting with that of the wrist rest, or macros keys or dedicated multimedia, but nothing unacceptable here, except perhaps for players aware of MMORPG.
The Cynosa Chroma is an ideal keyboard for who wants to keep a quiet and peaceful environment in front of his PC. However, the choice will be quickly made for those who wish to focus on performance since there are already mechanical keyboards that are worth seeing on this price range.


Source link
https://www.clubic.com/materiel-informatique/clavier-gamer-informatique/article-866707-1-encours-test-razer-cynosa-chroma.html